Yesterday I baked two sourdough boules; it's become a weekly chore. Sourdough has all but replaced our pre-starter days' bread machine whole wheat or white sandwich loaf dough. Two loaves, with a baguette or two, and occasionally Jewish Rye keeps the two of us well stocked for a week to ten days.
Nice looking loaves, yes?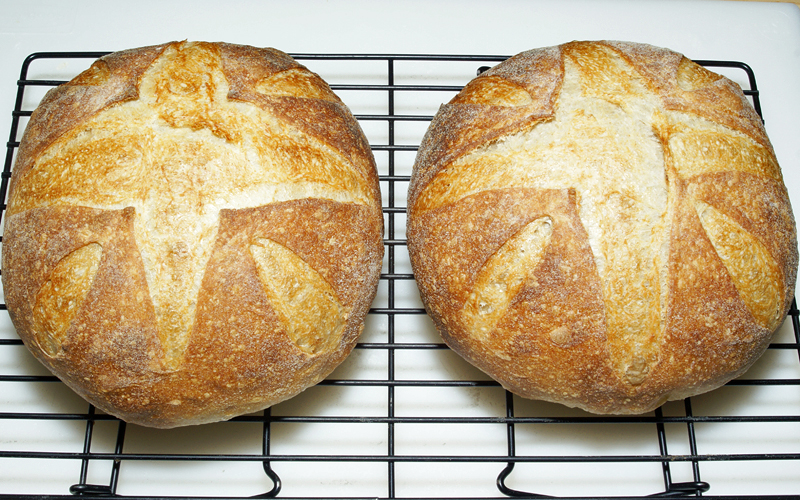 And now, another point of view.
Late pre-heating the oven, worried I was nearing over-proofing the two boules, and although the oven's status display showed it hadn't reached pre-heat temperature yet, I opened the oven door, and was greeted by a waft of very warm air. "Hey, it's close," I told myself. I started steaming, turned out and slashed the boules, and popped them in the oven.  When I reduced the oven temperature, after loading the loaves, the heating element shut off immediately. "Good," I told myself, thinking that proof that the oven had been near pre-heat temperature.
They seemed to be a little sluggish spring, but otherwise, all looked normal. I removed the steam pan after 15 minutes. Ten minutes later I pulled out one loaf to check for doneness; the bottom of the loaf was dough-colored, hardly a hint of browning. I dug out my thermometer, and checked internal temperature: 203°F. Yep, the oven had nearly reached pre-heat temperature; the baking stone had obviously lagged, far, far behind :-(
Fortunately, it only cost a valuable ego deflate. The bread has it's usual tastiness, and chewy crumb. I try the ignore the bottom crusts softness, and locally bland flavor. Of course, I haven't looked at it since I'd taken its picture.
David G.