German Brotchen Experiment
I have the pleasure of having a wife originally from Germany, and with that comes a German mother in law.  On our yearly travels to Germany, I have learned that the Germans are as serious about their Brotchen as the French are about their Baguettes.  My wife's uncle will drive past several bakeries to get to the one with the best Brotchen.
As a dedicated home baker, I have been comishioned by my mother in law to recreate the German Brotchen, since you can't really find them in Wichita, KS.
So my first experiments used the sort of thing that I would use for a nice baguette, since I think the dough really is the same.  I used various pre-ferments, flour combinations, cold autolyse, all of this.  The answer from the mother in law was always "nice bread, not brotchen.  Too fancy french."  So, I determined it really is just a straight dough, no preferment, in a very heavily steamed oven to get a nice crisp crust.
Easy, I figured.  I just made a silly straight 65% hydration dough, rise an hour and fold, another hour and shape, proof for an hour and bake.  OK results, but although the crust was really crisp when it came out, it softened up quite a bit as the bread cooled.  Too much residual water vapor.  The crust color was also not quite right, so I was again given the "nice bread, not brotchen" verdict.
So thus the following experiment.
I have created 7 brotchen, and prepared the crusts as follows:
The back 3 were all covered with plasti-crap for their entire proof.  The front four were uncovered half way through the proof so they developed a slight skin.
The left 2 were given a mild egg wash (1 part white to 2 part water), the middle 2 a milk wash, and the right 2 sprayed with water.  The loner got nothing.
Oven at 470 initially, down to 440 after bread in and steam created, then after 7 minutes turned oven down to 400 to finish a 25 minute bake.
Here are the results: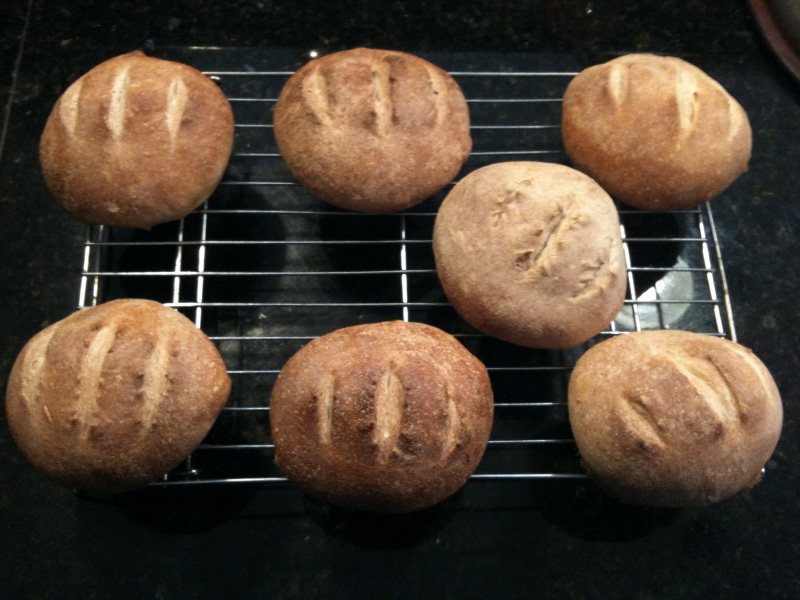 The poor guy with removed plasti-crap and no wash looked pathetically pale, probably due to the cooling oven.  The best 2 were the back left (full plasti-crap and egg wash) and the front middle (removed plasti-crap and milk wash.)  Awaiting mother in law verdict.
Note:  As a bread snob, I don't really like putting a wash on the breads, nor do I like making a straight dough without any pre-ferment or starter.  The goal here isn't really to make the best POSSIBLE bread, its more to replicate a fast, commercial product.  Hmm.......
Thoughts?