When life gives you too much ripe sourdough
Sometime last week, I built up my rye starter for a run-through of some rye loaves. For some reason or other I ended up with quite a bit more mature rye sourdough than I needed for the loaves I had planned. Too bad to throw it all away I thought, so I put the left-over starter to good use in a pain au levain-style formula. The result was more than I could've hoped for, so darn tasty as a matter of fact, that I worked a bit more on the formula, and baked a few of those rye-sourdough-pain-au-levain breads this weekend. Here's the loaf (and some Swedish hazelnut tarts) from Sunday afternoon:
I enjoyed slices of the loaf with a salad (spinach, bacon, hard-cooked eggs, mushrooms, in the background), a smear of blue cheese and a glass of red wine. Doesn't get much better than that.
Here's the mandatory crumb shot: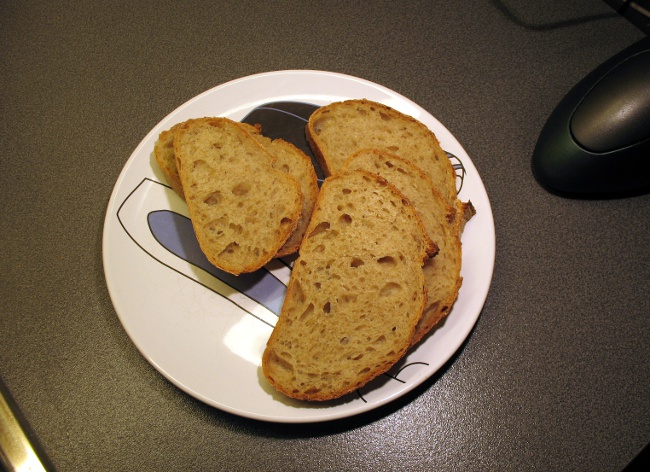 I was surprised by how drastically the taste of the bread changes when it is leavened by a rye starter. I tend to bake breads like these with a firm white starter, but now I'm more and more leaning towards using the rye starter instead. There's a distinct sour note to the breads, and a wonderfully tangy bite to every piece of the crust. I was also taken by how crackly the crust became when I baked the bread with a rye starter instead of a white starter; just have a look: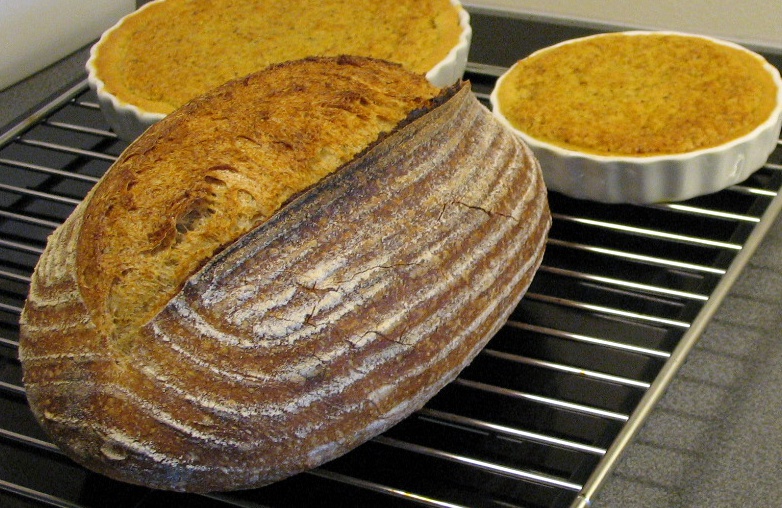 All in all, I'm really happy that I mixed up too much rye starter in the first place :)
Edit: Here's a link to the formula.