Wife and daughter went to visit family, leaving me pondering which bread to do today.
I went back to basics; I wanted something tasty but simple. No preferment and other techniques that surely improve the final outcome but take a lot of time.
I made something very similar to the http://www.thefreshloaf.com/lessons/addingmore post but added sugar, salt yeast and switched butter with vegetable oil.
The recipe goes like this:
-       3 cups flour
-       1/2 cups of water
-       1 cup milk
-       1/4 cup oil
-       1/4 cup sugar
-       3 teaspoons yeast
-       1 ½ teaspoon salt
-       1/2 egg
Mix flour, water, milk, oil egg, sugar and yeast and let rest for 20 minutes
Add the yeast and knead for 10 minutes.
The dough should be very elastic but not too sticky.
Cover with plastic/wet towel and let the dough rise for ~70 minutes (a lot of sugar, no need to wait too long).
Forming the loaf – We want to make a braided bread here. So, divide the dough to 3 equal parts, form long strands out of each part. The edges should be thinner the center. Connect the 3 strands in the edge and start braiding them together.
Cover and let rest for 45-60 minutes or until it doubles in size.
Preheat the oven to 250c. I have a baking stone on which I place a pot full with boiling water for lots of steam
Before baking, I brushed the bread with a mixture of egg and melted butter for nice color.
Bake in 250c & steam for about 15 minutes then remove the water and reduce the heat to 180c and bake for another 30-40 minutes. To make sure the bread is ready see if the bread produces a hollow sound when knocking on its bottom with your finger.
Beside fish, this bread goes well with almost anything from a full meal to chocolate spread (kids will love it)
Top image is from today, the lower one is a bit older but shows the exterior of the bread more nicely.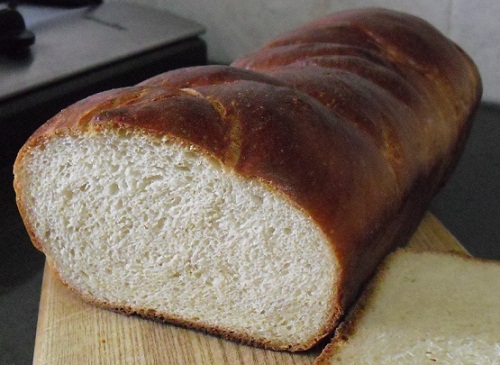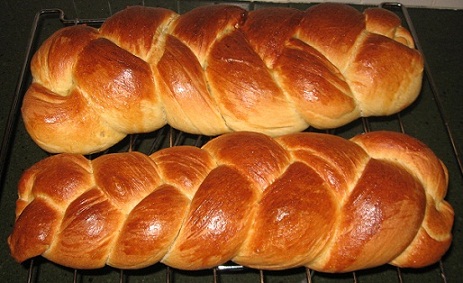 This is what my family gets for leaving me home alone :).
Its fun to enter a house when a bread is baking, the smell is beyond comparison so I don't think she objects
Until the next post
Ilan