This time, I wanted bread that brings more aroma and character of its own, something that can accompany a simple meal or to be used for a not too spiced sandwiches.
The combination of black olives and thyme is not new and since I love olives in both meals and sandwiches (depend on the dishes) I decided to have bread with it.
When I opened the fridge to get the olive paste, I saw a jar of dried tomato next to it. Olives and tomato is a good combo as well and I added the tomato paste to the mix but to keep the olive base of the bread I added only small amount of it.
Olives are very salty and call for salt reduction in the recipe. The dried tomato paste brings the acidity of the tomato in the game as well and it's better to negate with a bit of sugar. So instead of salt reduction, I added ¼ teaspoon of yeast and ¼ teaspoon of sugar to the mix.
(The dough base is the same as the one I posted in the Baguette Attempt)
The recipe:
Preferment (15 hours in advance)
-       1 cups flour
-       2/3 cups of water
-       1/4 teaspoon yeast
The Dough:
-       2 1/4 cups flour
-       2 teaspoons yeast
-       1/2 teaspoon sugar
-       3/4 cup of water
-       1 ¾ teaspoon of salt
-       3 teaspoons of black olive paste
-       1 flat teaspoon of dried tomato paste
-       Handful of fresh thyme
Preferment was mixed the evening before and let rest for 15 hours
For the dough – mix the flour, yeast, sugar and water into a unified mixture and let rest for 20 minutes.
Add the salt, olive paste, dried tomato paste and thyme and knead for 10 minutes and let rise for 70 – 90 minutes (depending on the weather).
I made two batches of this bread. One of them I folded during the rising time and one I did not. The folded dough yielded better bread (texture) 
The result: (the colors in this pictures came out all wrong for some reason)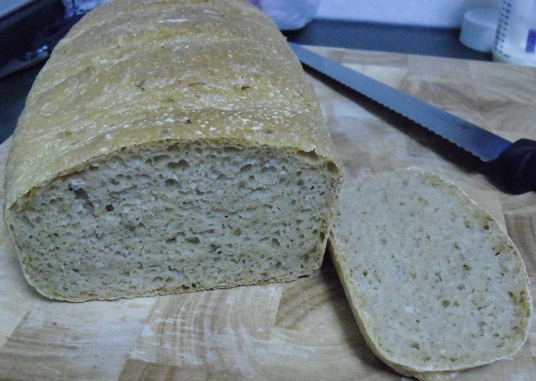 Until the next post
Ilan