100% Soudrdough Whole Wheat Batard
This is a batard i made last weekend:
Ingredients:

 - 400g freshly milled Hard White Wheat
 - 300g Water
 - 100g WholeWheat Sponge / levain / preferment (at 68% hydration)
 - 9g fine Sea Salt
-----------
800 g Final Dough at 73% Hydration
Process:
1 - Flour ,Water, and salt mixed to form a dough (SOAKER), and left 8 Hours at room temperature.
2 - Preferment / levain was prepared 2 days before. (BIGA) and stored in the refrigerator after fermenting at room temperature for 8 hours.
3 - Day of Bake, BIGA and SOAKER where cut into pieces and mixed without tearing the dough until it passes windowpane.
4- Stretch and fold gently into an envelope shape, round into a ball every 1 hour for 3 hours.
5 - Preshape, and Shape intoa Batard and place in a rice-floured couche for 45 min, preheat the oven.
6 - Poke test, Slash the loaf at an angle, load into the oven with a peel on parchment, and covered by a preheated pyrex bowl.
7 - After 15 Minutes, the bowl is removed, the stone replace by a colder one and shifted upwards to pervent burning the bottom of the loaf.
8 - After 30 minutes, switch off the oven and let the loaf in to dry out for 10 min.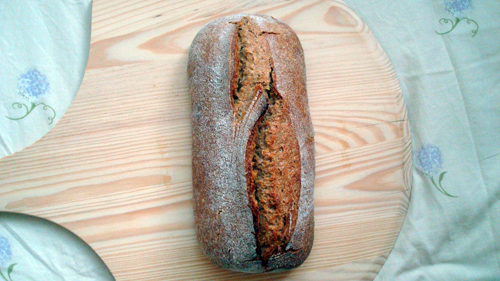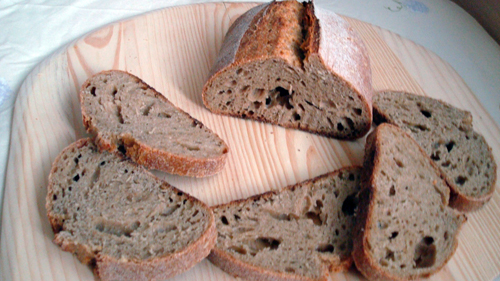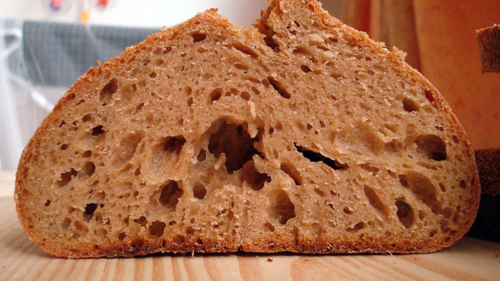 Result: Chewy crumb, not dense, and very slightly moist and slightly sour.
Recommendation: Yes, But the preferment was over ripen when mixed, which is evident from the lazy yeast activity, hence: tight crumb. Next time, i'll mix it when it is just ripe.
Khalid