Another fine day in the RV-Maybe an end in sight?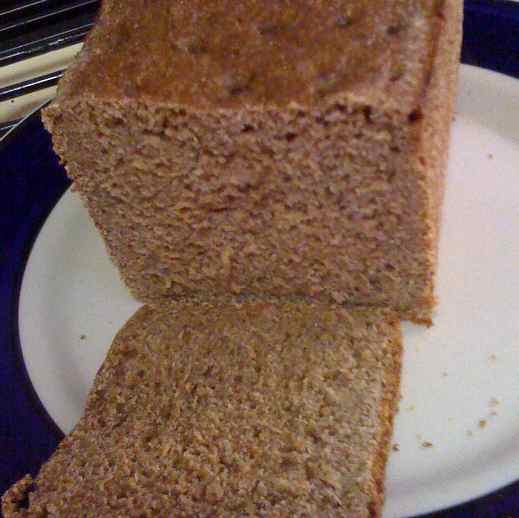 I had another baking day in the RV. I baked a 100% whole wheat miche. I didn't use a recipe this time. Simply modified a "1-2-3" method, making it into a my own. I used 150 grams whole wheat starter,  (100% starter) 375 grams water and 450 grams whole wheat flour. 2% salt. I mixed until it came off the sides of the mixer in the Kitchen aid. This was an incredibly stretchy dough, I guess because of the very high hydration! Certainly don't believe that whole wheat is low in gluten because it isn't true!!
I calculate the hydration of this at a whopping 85% when including the starter. Can this really be right? When doing my folds, I could literally stretch this baby about 18 inches each direction on the first set of s/folds!! It was pretty amazing. I did three sets of s/f's, 1 hour apart. Fermentation time was 10 hours, shaped and 1 hour later I baked. It actually held it's shape pretty well, only flattening slightly.
What a nutty flavor, crispy crust and incredibly open crumb for a WW loaf! Nice! I might try the same in a loaf pan and see what I get in the way of a sandwich bread next time.
The same night, I made a 75% rye, 25% spelt loaf, using Mini's favorite rye formula and my Pullman pan. Spices were dried onion, caraway and anise at a scant tablespoon each. I've found that the exact amount that Mini uses for her big pot works for my Pellman pan. How easy is that? I also found this time that it is the perfect overnight recipe, needing no shaping at all! I put it directly into the Pullman pan at 5:30 in the evening and baked at 3:30 AM. Although Mini says this will self-destruct in 8 hours mine held up for a full 10 and came out absolutely perfect. Rose to the top of the pan, held up, had a small amount of oven spring and with the spelt had a slightly milder, nuttier taste than the 100% full rye that I made a couple of weeks ago.
I'm making plans to start my Hamelman's baking challenge. I'll be starting with something from the levain chapter and something from the rye chapter. I'm waiting on an order of flour and a couple of days off in a row. Perhaps I'll start a levain tonight if I get extra motivated, we'll see.
Looking at about another month in this little camper. Starting to get some cabin fever. It's been an experience, that's for sure!