Over the past week, I've tried two different recipes of sourdough bagels.  My next attempt will be the recipe shared by Ross ;)
My first attempt of SD bagel (recipe from Mike's sourdoughhome.com)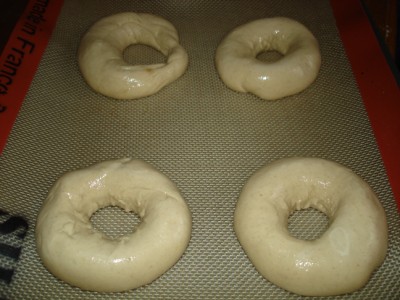 I've tried rolling the dough out and then rounded it up (see the one on the top left) but had a hard time keeping the same thickness.  So for the rest of the dough balls, I went for the "poke a hole" method.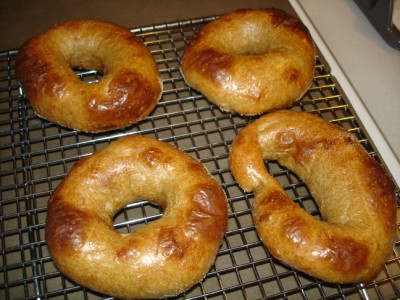 The dough must have underproofed as it NEVER floated to the top (I have them boiled for more than 2 minutes).  The bagels seemed to remain the same size after baking.  As I was feeling a bit disappointed, regret no more!  After the first bite, I was happy again!  Though it was a bit dense, the texture was very chewy.  I enjoyed it.
After reading David's post on BBA bagels, I decided to give Reinhart's SD bagel recipe a try.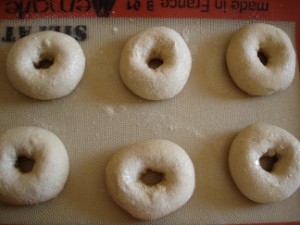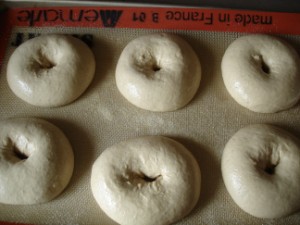 I was unable to follow the time schedule to the exact.  They were supposed to proof for about 3 hours before going into the frige.  Well, I was busy watching Anthony Bourdain's show and had totally forgotten about them.  By the time I looked at them, it was 4 hours later and they seemed to have been overpoofed.  How do I know?  When I put them in the boiling water after 16 hours in the fridge, they didn't sink in the bottom at all.
I also baked them longer than the book says (10-12 minutes).  I think they were in the oven for about 17 minutes.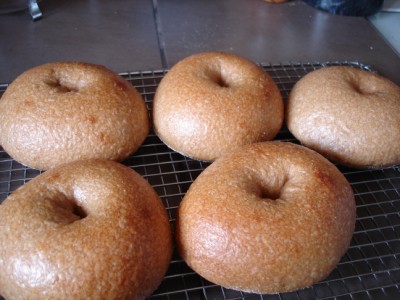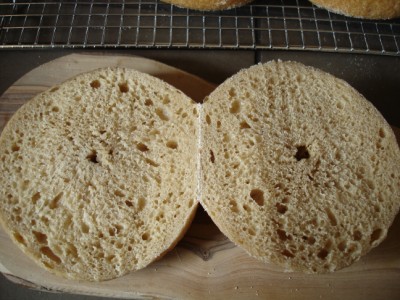 It has a slight sour taste, not as chewy and dense as my previous batch.  However, I like them both!
Michelle