These are the most delicious tasting waffles and a keeper recipe for me.  They are crispy and light with a wonderful flavor.  Very easy to make and were perfect to feed my hungry husband Mike after his very early morning bike race.  He had stayed up after working his swing shift and went directly to the race.  9 AM he was home and hungry.  I had prepared my batter that night and only had to heat the waffle iron add eggs and baking soda to the batter and wisk.  I made some poached eggs while the waffles baked.  This recipe comes from the popular BreadTopia site.  They are perfect for freezing and so easy.   I would suggest doubling the recipe if you are feeding more than 2. 
The night before:
Heat to melted and cool
4 oz. (1/2 cup - 115Gm) Unsalted Butter
8 oz. ( 1 cup - 225Gm) Milk
Add To:
9 oz. (1 cup - 225Gm) Starter - my starter was 100% hydration
1 tsp. sea salt
1 TBsp. Brown sugar
6 oz (1 1/2 cup - 170 All Purpose Flour
Mix - Thick Batter - Cover - 8 - 14 Hours
Pre-heat waffle iron 10 - 15 minutes
Uncover batter whisk in 2 large eggs and 1/4 tsp. baking soda
3- 5 minutes in iron or longer for darker waffles.  While my waffle iron pre-heated I put a large stainless steel fry pan with lid and about 2 - 3 inches of water on to come to just boiling point.
We love poached eggs..
When the waffles went into the iron I cracked my egg directly onto the counter.. ' not on edge of bowl ' no shells this way.. put it into a very small bowl with a lip and very gently slide it into the simmering hot water ' no bubbles boiling '.  I use a handled round skimmer to take them out of the water and drain..using a paper towel so absorb any extra water.  Served with poached eggs and strawberries.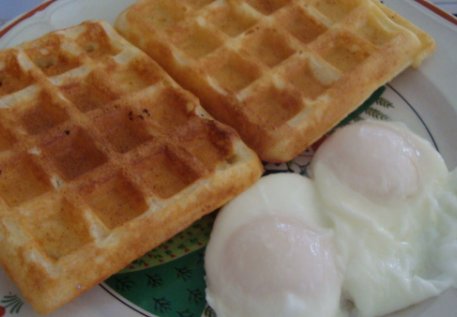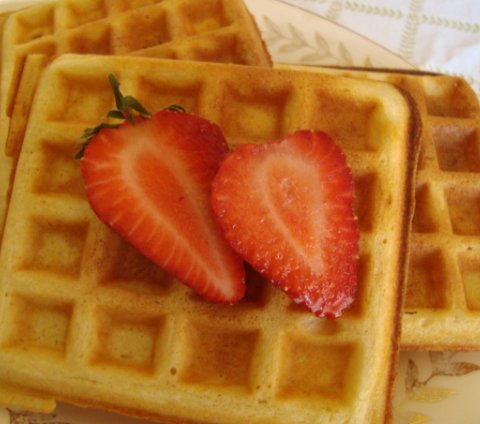 Sylvia