Ovenspring, again, and steaming method effects
I recently baked, for the third time, two sourdough boules, which besides the primary purpose: Eating, tested the effects of slashing, and steaming methods, and the behavior of a new starter. The latter is posted elswhere (Purchased Dried Starter Reactivation Survey).
These loaves were slashed identically, placed in the oven simultaneously, and swapped position after 15 minutes of steaming. The ovenspring realized is shown here,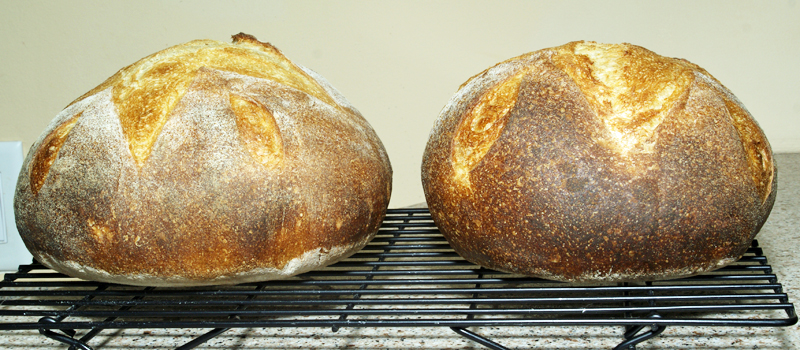 and from this placement the loaves look acceptably identical. But...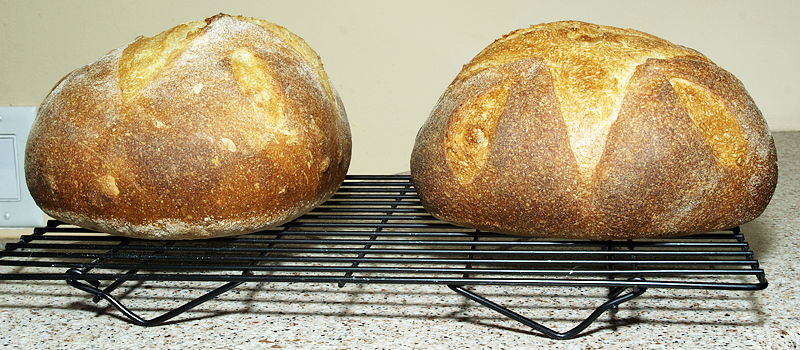 ...this is the position they were initially placed in the oven. (Note the asymmetric ovenspring outside-to-center of both loaves. 
I normally create steam with a towel-lined half-sheet pan, wetted with boiling water, and placed below the baking stone. This time, thinking I could direct the steam more toward the edges of the stone and, therefore, better direct the maximum volume of the steam upward toward the loaves, I rolled two small towels and placed them on the extreme ends of the half-sheet pan. 
Two of our regular problem analysts, David and Eric, have argued steam condensing on the bottom of a baking stone causes the stone's surface to cool, and effects ovenspring. I've been a bit skeptical, but I am no longer. It is evident that the rolled towels did focus the steam's rise. but the seventeen-inch pan, below a twenty-inch baking stone created an asymmetric cooled surface on the stone, as is evidenced by the lesser ovenspring on the left and right sides of the left and right loaf respectively. 
Subsequently, I tried placing the pan above the loaves (I've tried it before), rather than below the stone (and the loaves), but I'm still disappointed with the results. I've returned to steaming from below, using a half-sheet pan fully-lined with wetted towels. The ovenspring is again uniform across the loaves, but I suspect reduced from what it could be, due cooling from condensing steam across the entire bottom of the baking stone.
I'm once again rethinking my steaming process. I like the control the wetted towel vs. lava rocks gives me--I can remove the pan safely when steaming time is completed, but I don't want the stone cooling effect. I'm thinking of fabricating and placing two narrow aluminum troughs in the spaces between the stone and the oven's wall, and filling them with wetted towels five or six minutes before loading the loaves. This, of course, will interrupt the heat convection paths on the sides of the stone, but I'm not certain, nor can I guess, how that will effect the baking.
Stay tuned;-)
David G.