Day 4 Whole wheat baguettes
I wasn't planning to make baguettes in my seven day bread making challenge to myself, but this morning I realized that my refrigerator was being taken over by bread byproducts.   In addition to my whole wheat sour dough starter and rye sour, I had the leftover levain from the pain de compagne I made the other day, as well as the bread equivalent of a chain letter - a white flour starter for Amish Friendship Bread that a friend dropped off the other day.   I had no intention of making the friendship bread.   It has most likely never been cooked in an Amish kitchen, since it calls for a box of instant vanilla pudding in the batter.    But the starter looked fine and healthy and I've been feeding it for a couple of days.   So I decided to mix the levain and the "Amish" starter together, add some salt and make a couple of baguettes.   The thing that has been holding me back from making baguettes is I don't have a couche or a baguette pan, and I am hesitant to run out and buy them until I get a better sense of what type of bread I want to make on a regular basis.   So I just set these baguettes out on a board, and let them flatten out as they would while rising.    So these don't look like much, and I'm sure whole wheat baguettes would be considered an abomination by some, but they are actually quite flavorful, and I'm hoping that I will be able to figure out how to make these (or something like them) again.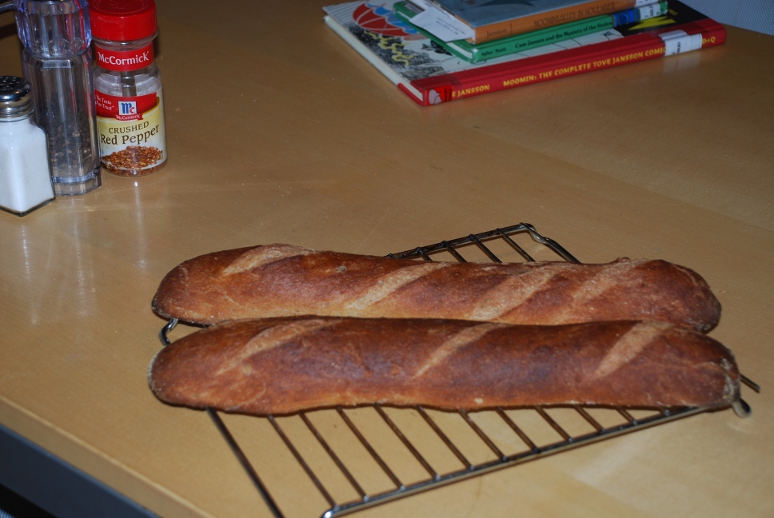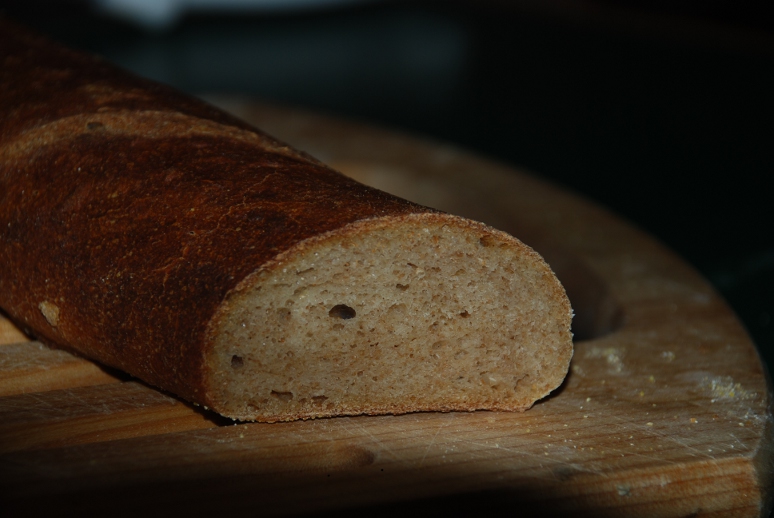 Now I'd better take a break for a day or two to give my family a chance to catch up on all the bread!