Seven breads in seven days - Day 2 Pain de Compagne
Today's bread is a pain de compagne.   I used and modified Bernard Clayton's instructions for Madame Doz's bread.   Compared to the milk bread I made yesterday, this is long and involved, with many steps that make the scheduling difficult, especially for a beginning bread baker, who generally can't hang around the kitchen all day.   So I allowed myself more flexibility on the times than what Clayton specified, and looked more at the condition of the dough than the clock to decide if I could get away with going late or early on several of the steps.   I have made this bread a few times already and this came out the best yet.   It starts with a "starter" with flour, water, vinegar, buttermilk, and yeast (belts and suspenders?) that goes overnight.   Then add whole wheat, water and wheat germ to that to make the levain, which hangs around on the counter for most of the day.   Then mix up bread flour and water into a dough.   Then merge the levain and the dough - balls of around equal size - into one big blended dough.   The step that I really don't understand and haven't seen elsewhere, is that when the two pieces of dough are merged, only then do you add a solution of salt in water and work that in.   Can't argue with the result though - even though this uses a fair amount of whole wheat flour, it still comes out very mild and light.   Although Clayton's total kneading time is around 20 minutes, I tried to do as little as I could and still get the dough mixed up, so as to have more of an open crumb.   I baked this in a dutch oven instead of on a stone with steam, removing the top for the last 15 minutes.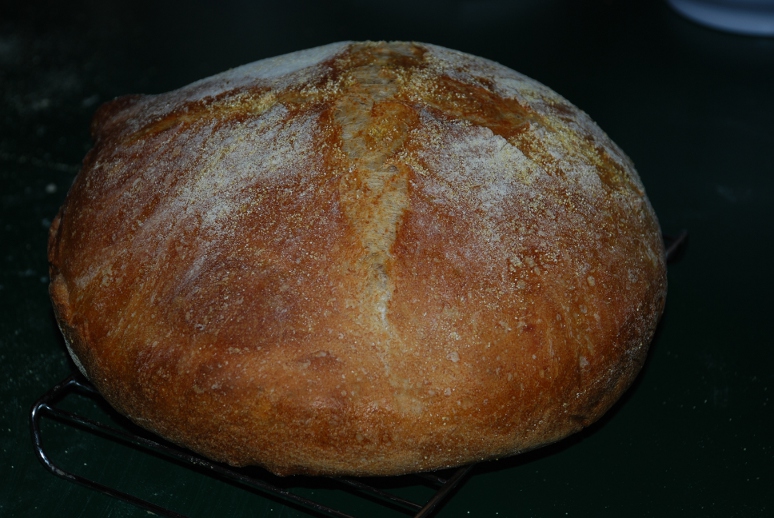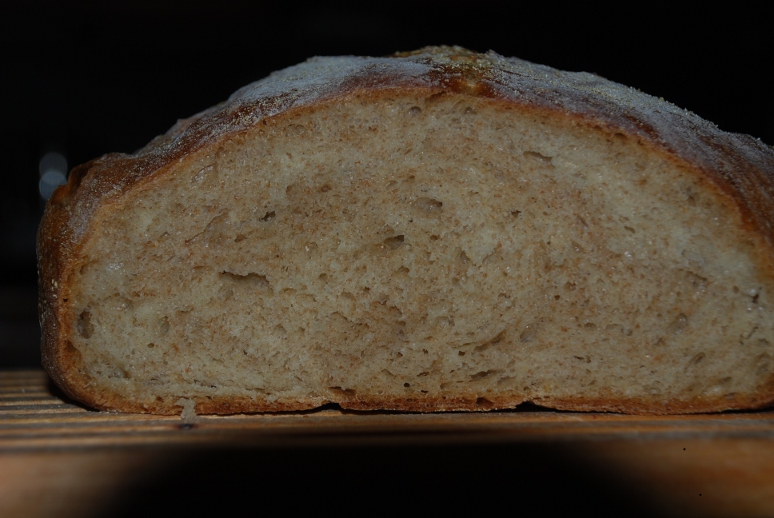 I saved half of the levain in the refrigerator, but don't really know how to use it other than to just make another big boule soon.    It is not a starter, so I don't know if I can just add to it later without the "starter" component" when I'm ready to bake another Madame Doz.
Tomorrow - Multigrain batard using no-knead techniques.