This is the first time I ever use Bread flour, i'll admit. Organic dover farm's Wtrong whole meal flour (Made of Red Hard Spring Wheat) With 12.6% Protein.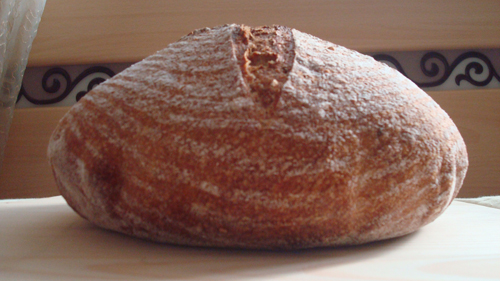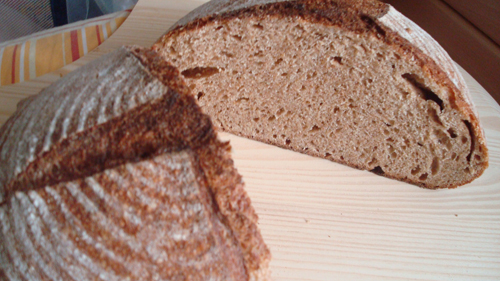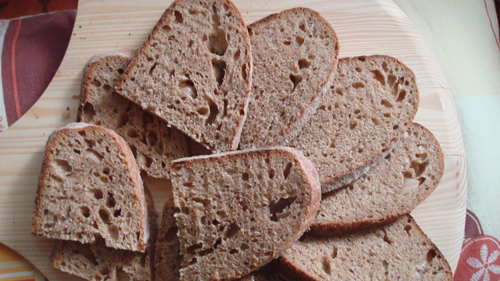 Ingredients:
SOAKER:
 - 560g Whole Meal Bread Flour
 - 420g Water
 - 18g fine Sea salt
BIGA / PREFERMENT:
 - 240g Strong White bread flour
 - 180g Water
 - 5g Instant dry yeast
Soaker was autolized for 24hrs, but i couldn't bake, so into the fridge it went for another 24 hrs.
Biga Was fermented in the fridge for 48 hours.
 Both where out 2 hours to dechill, cut into pieces, mixed, and kneaded (french kneading) until dough is silk smooth. Then fermented for 2 hours , with stretch and fold in the bowl each 1/2 hour (4 times). the dough was then preshaped, and then shaped into a boule and into a banetton for 45 minutes (should have been 1 hour at least, especially with only 5g yeast to start with).
Any way, i devised this covered baking yesterday. A pirex deep dish covered with an inverted stanless steel cookware. when the dough was ready i inverted the banetton and let the dough fall into the hot pirex with parchment, covered it , and into the oven for 30 min. Last 15 minutes where without cover to evenly brown.
Khalid