Slashing Effects on oven spring revisited
A few of you may recall a short thread I posted last week describing, with photos, the difference between upward oven spring, and overall expansiion of two loaves made from the same batch of dough, baked coincedentally, wherein the only differences were the slashing patterns used, the loaves positions on the baking stone, and one loaf was loaded approximately one minute, or less after the first.
Today I baked two boules of sourdough, made from the same formula as last week, and, of course, from one batch. I did everything as close as possible to what I did last week. I did use a different starter, but that shouldn't and doesn't effect the outcome.
I made two changes: 1) I loaded the loaves simultaneously, and 2) I slashed the same pattern on both loaves.
The concerns voiced last week were what other things might cause the dramatic difference in oven spring? Uneven oven heat distribution? The first loaf "robbing" heat from the baking stone? uneven steam distribution?
Based on what I experienced today I think last weeks differences were due, for the most part, to the slashing pattern difference. The only slight difference I think today's loaves experienced were minor differences in the slashings' depths and lengths, and I believe the skin on the slightly smaller loaf was drawn tighter than the other loaf. I'm still working on my shaping and slashing skills, but I did the best I could.
Here's the photos, including the before loading pics asked for. I'm satisfied my oven and steaming method are both working fine. I welcome any comments.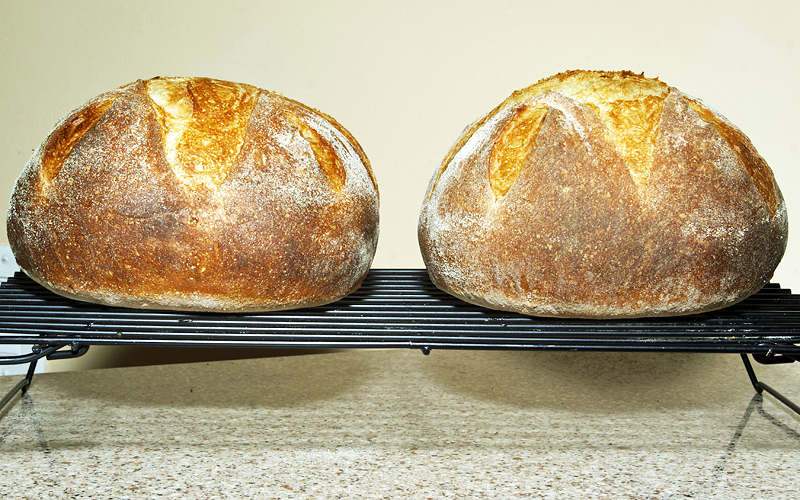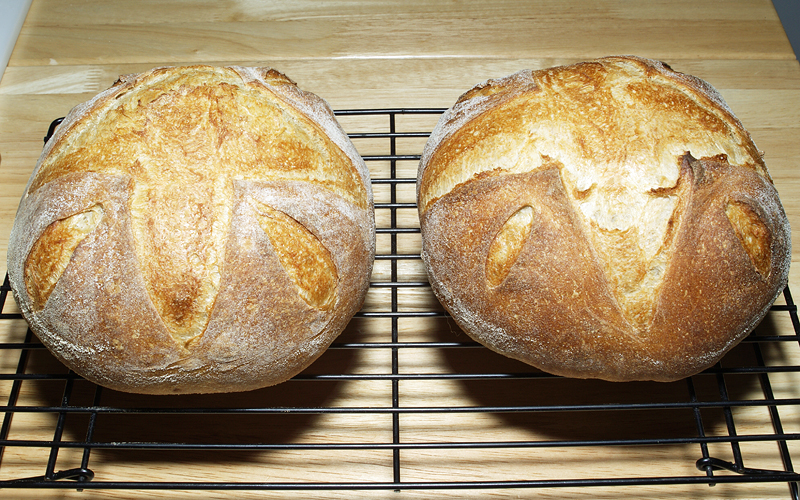 David G.