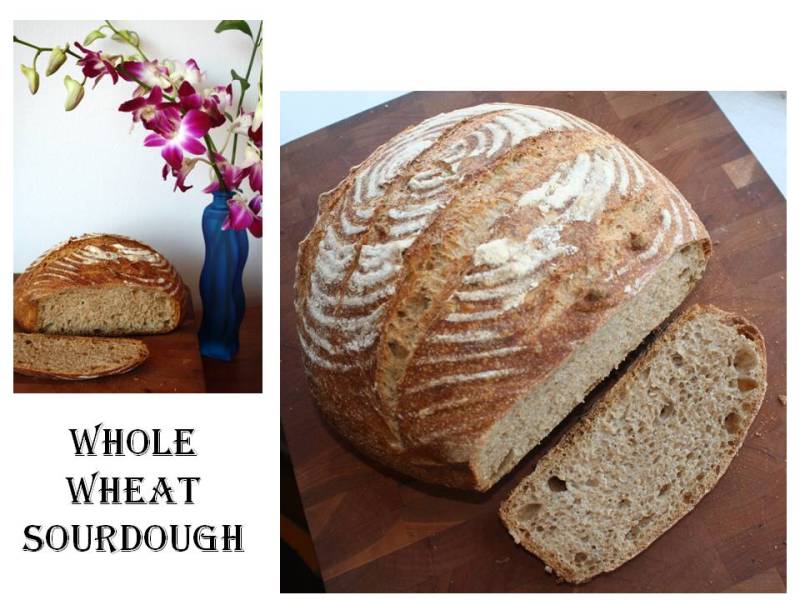 Notes:
- Used my 100% hydration starter.
- Two builds to reach 8 oz active starter. The starter smelled fruity, not sour. Bubbles about half a centimeter big.
- Final dough: 2 cups whole wheat flour (365 from Whole Foods) and under 1 cup AP flour (King Arthur), 1 tsp wheat gluten. 
- For DDT of 76 degrees, added 1.5 cups water at about 90 degrees.
- 30 minute autolyse. Kneaded till windowpane.
- 45 minute rise, stretch and fold, 60 minute rise.
- Shaped into boule, plopped into floured banneton. Overnight retard (10 hours).
- Baked at 450 in Le Cruset (15 mins), turned oven down to 440 (20 mins), lid off (10 mins). Total = 45 mins.
- Internal temperature = 200 degrees.
Results:
- Lovely crumb and crust. We like this a lot, in terms of flavor and whole wheat flour content.
- My goal is to be able to make this consistently, and also get better at shaping.
- I would also like to introduce diastatic malt and see if I can decrease the AP flour. Need to do some reading from Hamelman's Bread in preparation.
- All comments and feedback welcome!