Today was an exciting day- I almost kissed and hugged the UPS delivery guy, since he brought me my coveted package of food grade lye! A few days ago I finally received Hamelman's "Bread"book and was very eager to try out his pretzel recipe. I had read some good things about it on a German blog, and sicne my one and only pretzel makign attempt a few years ago, was HORRID, I had high hopes for this one.
There were a few changes that I ended up making to the recipe-one was I had no bread flour so just used all-purpose and the second was, I ended up having to refrigerate the pate fermentee for a few hours before proceeding.
Words cannot describe my elation at the finished product!Knowing that there are many different ways of making a pretzel(and not intending to put down any other methods)- my pretzel desires are pretty straightforward- I want a bavarian Laugenbreze-a lye dipped pretzel.Crunchy, with that distinctive taste made only by the lye bath, slightly chewy in the middle, and the arms need to be crispy.
My shaping still leaves much to be desired-it said to shape them with their bellies being slightly thicker-well, my guys are PREGNANT! But the taste, oh the taste, could not be better.
All I can say, is these are PRETZELS in my book! I swear-this is one of the best days in my US-bound life! I now can make and eat real pretzels!
YIPPIE!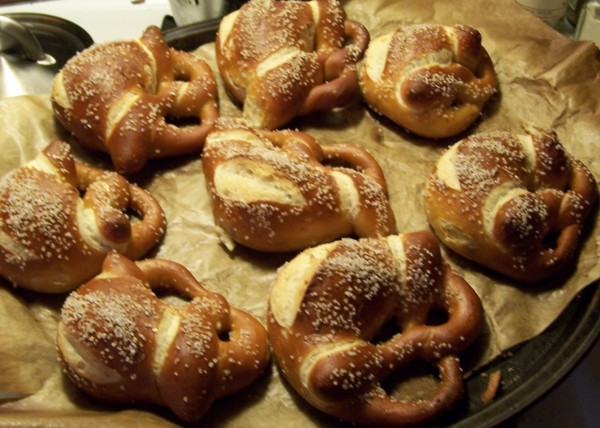 Christina
P.S.: I also made some very yummy sourdough waffles this morning-even my son(who for some strange reason doesn't like waffles) ate them with glee!Oh happy day!