3/10/10 - Improvised Graham Flour Boules
Hey All,
Just wanted to share with you my recent bake from 3/10/10.  These are improvised graham flour boules.  I didn't have a lot of graham flour laying around, so I made it up out of stuff I had in the kitchen.  Enjoy!
I am dedicating these to dmsnyder who demands a crumbshot!
Tim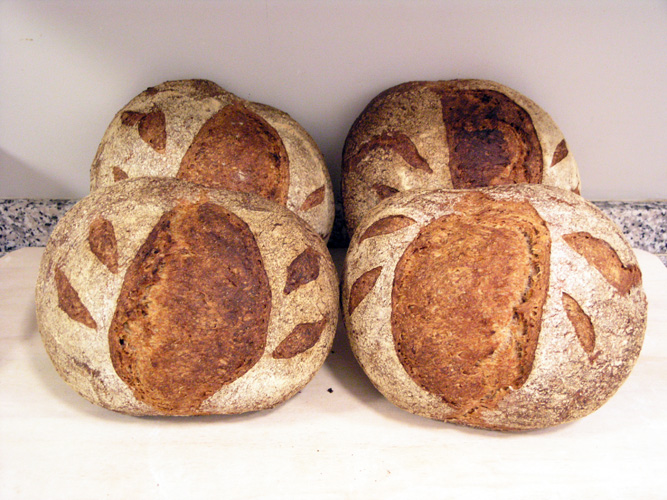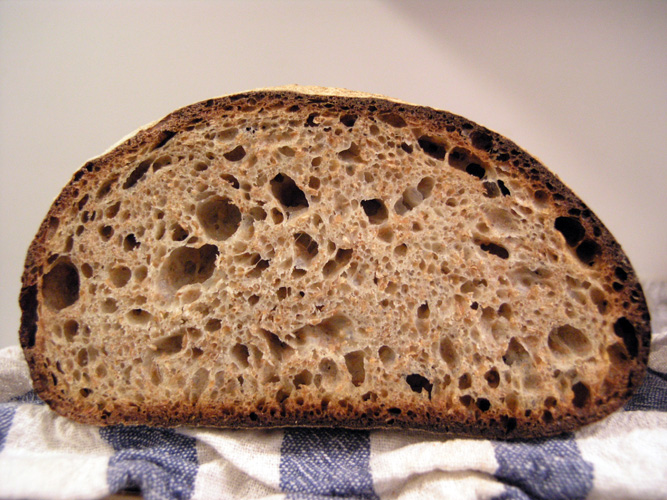 Total Formula
1430g - AP - 60%
524g BF - 22%
14% - Coarse Wheat Bran - 14% (Shilo Farms Organic)
96g - Wheat Germ - 4% (Bob's Red Mill)
1788g - Water - 75%
48g - Kosher Salt - 2%
5g - Active Dry Yeast - 0.2%
4126g - Total Dough Yield
Liquid Levain (125% Hydration)
238g - AP
298g - Water
24g - Firm SD Starter (60%)
560g - Total
Stiff Levain (65% Hydration)
476g - AP
168g - Water
560g - Liquid Levain
1204g Total
Final Dough
714g - AP
524g - BF
334g - Coarse Wheat Bran
95g - Wheat Germ
1332g - Water
48g - Kosher Salt
5g - Active Dry Yeast
1204g - Stiff Levain
Instructions
Evening Day 1
6:45pm - Mix Liquid Levain, cover, let rest on counter.
9:10pm - Stir levain, cover let rest.
Day 2 (midnight)
12:00am - Mix stiff levain, cover, let rest 30 mins.
12:30am - Knead stiff levain for a minute or so until smooth, form ball, cover, place in fridge.
Evening Day 2
6:20pm - Take stiff levain out of fridge.
7:10pm - Mix final dough, autolyse 40 minutes.
8:00pm - Turn dough
8:30pm - Turn dough
9:00pm - Turn dough
9:30pm - Turn dough
10:30pm - Divide into 4, shape boules, place in linen lined baskets, proofe for  45 to 60 minutes.  Place 2 stones in oven along with steam pan.  Preheat oven to 550F with convection.
11:45pm - Turn boules out onto peel, slash as desired, place in oven directly on stone.  After all are in, place 1 cup of water in steam pan, close door, turn down to 460F, bake with no convection for 10 minutes.  Turn convection on for 20 minutes.  Rotate loaves, bake for another 30 minutes with convection at 430F.  Loaves are done when internal temp reaches 210F.  Cool completely before cutting.