Jewish Rye: second baking
Saturday using Rye Sour excess from an earlier baking--3 or 4 days ago--I built more Rye sour, flollowing Greenstein's Secrets of a Jewish Baker; I did stage 3 feeding late Saturday evening, and refrigerated the refreshed sour intending an early Sunday morning bake.
Sunday; early AM: I let the sour come to room temperature (it had nearly doubled overnight, and risen more in the 1 hour warmup. I'd measured 25 oz. of Rye Sour into my hand-mixing bowl, and put the remaining cup of sour in the refrigerator, for another day. I'd previously weighed out the dough's First Clear flour, salt, and yeast.  I was about to pour the dough's water addition into the sour when the phone rang. Five minutes later I was out the door, heading for a local carriage driving show; it's organizer had called and asked my assistance. I couldn't say no. I spent five minutes covering the Rye Sour with plastic wrap, and putting it back in the refrigerator. The rest of the mise en place was left where it sat.
I came home late afternoon, sunburned of face, dusty, weary, and pleased with the day's work. However, I was in no mood to bake bread.
Monday (today) I picked up where I left off. Mixed the dough, and baked two loaves.
Minor differences: obviously the extra twenty-four hours retarding the sour; I restored the salt to the original recipe (I'd reduced it slightly when I made it the first time.), and I made the starch glaze with arrowroot starch instead of corn starch. I use arrowroot starch in lieu of corn startch in most cooking recipes. I find its silkier consistency more to my liking.
The first time I baked Jewish Rye, I had a couple of crust blowouts: unwanted blowouts. (see
Unwanted crust cracks and bursts; any ideas why? )

I got some good suggestions from other TFLer's, on how to prevent them. I incorporated all (or most) of their suggestions processsing this dough. I scored deeper, and (my idea; a variant of another's suggestion to make them longitudinal) I angled the slashes slightly from being square with the loaves' long axes; and I final proofed until I was certain any further would be over-proofed.
Here's the results, no Grand Canyon bursts!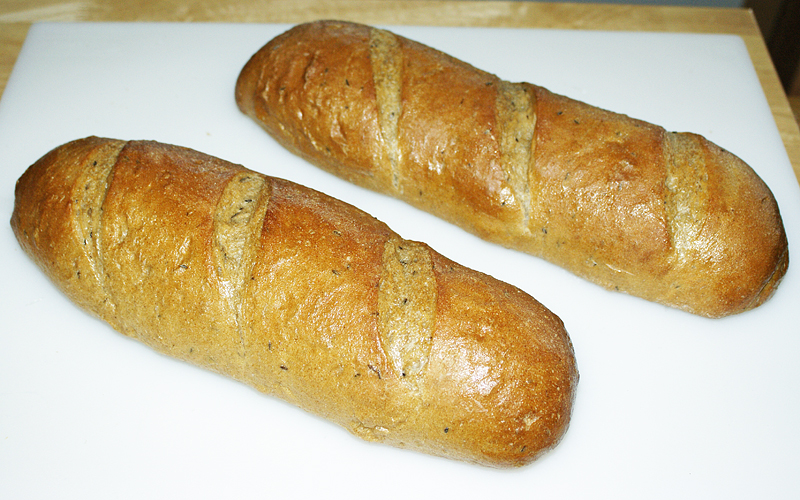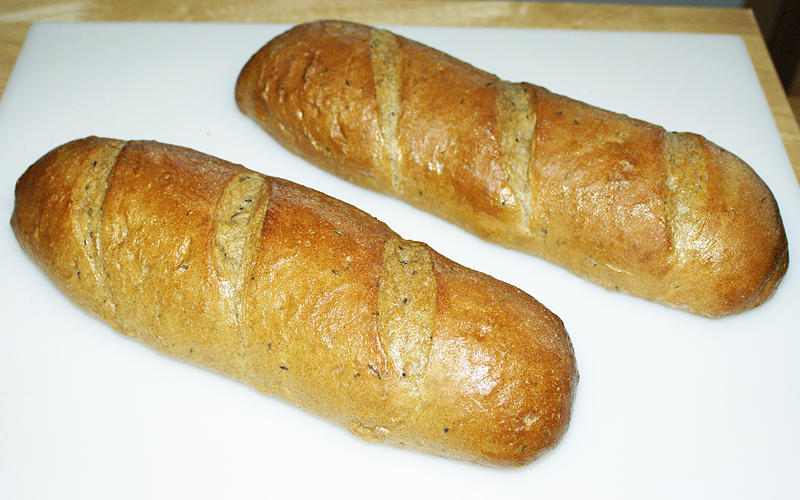 I am, of course, delighted with the result. I'm certain the crumb will be consistent with the first bake. Thanks again to all those who helped me avoid unwanted crust bursts with this bake--and, hopefully future ones.
There is only one small doubt in my head: did the unplanned retardation influence the absence of unwanted cracking? D**m, I'll just have to bake this formula again, and eliminate the extra 24 hours. Tough, but somebody's got to do it.
David G