Need help maintaining sourdough starter from a local grocery's bakery...
I recently acquired a sourdough starter from Earth Fare's bakery (free by the way!). It seems to be thinner than pancake batter. It's been sitting at room temperature for about 8 hours in a plastic container that's not shut all the way---oh and there's hooch, that watery alcohol layer starting to form at the top. Do I put it in the fridge or keep it at room temperature? I think I'm gonna put it in the fridge since I don't know what to feed it exactly.
Anyway, I don't wanna kill it or mess up the starter since this is my first time with a starter.
I know that to feed it, you wanna put double the amount of flour + water to starter.
Any suggestions as to what flour I use? I have Hodges Mill rye, King Arthur whole wheat, KA bread, and KA unbleached white. Also, do I just use water or should I add pineapple juice? I've sorta read Peter Reinhart's book, but this is my first time making a sourdough starter.
And if I have, say 1/2 cup of it, I would just add 1 cup of flour and 1 cup of water/juice, right?
Any help or feedback would be appreciated! Thanks!
Oh and here's what it looks like: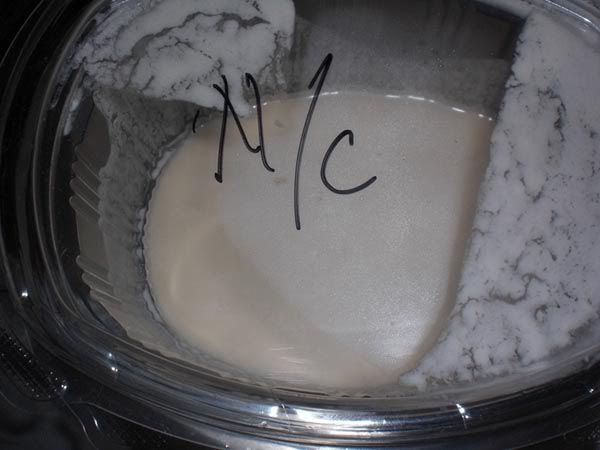 (N/C = no charge)
Layer starting to form.