Sneaky Sandwich Sourdough
My husband and and small boys quite like whitish sandwich bread, and although they like my sourdough boules and batards for dipping in soup, it is difficult to convince them to eat sourdough in any other form.  I have read in a few places that the long fermentation times plus the lactobacilli in sourdough improve the digestibility and lower the GI rating of bread (in comparison to bread prepared commercially with the shortest possible rises, etc).  Seeing as the family like toast and sandwiches from time to time, and I always make a instant yeasted loaf for that, I thought it couldn't hurt to try a sourdough sandwich loaf and test out the family's reaction.  So, today I am baking a sourdough sandwich loaf which is all white bread flour except half a cup of fresh ground whole wheat flour.  Of late, my starter has been less sour than it was before, so perhaps that will help, too.  Anyway, here are the pics of the crust and crumb.  While it was baking it filled the house with a delicious almost buttery smell which I find utterly irresistable!  Let's hope they like it too....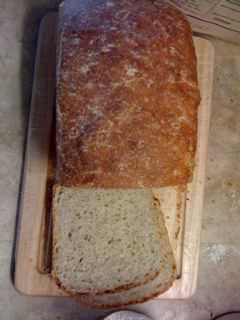 A cool loaf and two slices of toast later...
The children gobbled it up!  It is not sour, is quite light and fluffy, and very much what I was after.  Success!