February 25, 2010 - 3:12pm
Following is a sweet tarali recipe for all seasons.  They are light, sweet and delightful...you can't stop eating them.  They are also great dunked in red wine.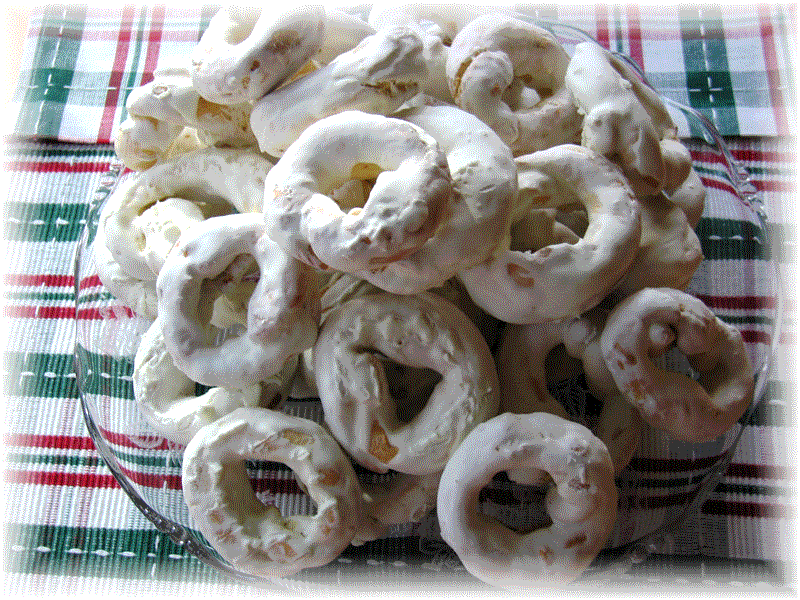 Sweet Taralli
6 large eggs
1-1/2 t. salt
½ cup shortening preferable Crisco
1/2 envelope of dry yeast
1/2-cup water
6 to 6-1/2 cups all-purpose flour (Do not use all the flour if not needed.)
Glaze
2 egg whites or Just Whites equal to 2 eggs (4 t. Just Whites & 4 T. water)
4 cups of sifted confectioners sugar
2 t. lemon extract
Instructions
 Proof yeast in water heated to 110 degrees
 Beat eggs until fluffy and mix with shortening, salt. Then add the yeast mixture and flour.
 Place on floured board and knead for 5 minutes. Let set for 10 minutes.
 In the meantime, bring a large pot of water to a boil.
 After 5 minutes, knead the dough again for 5 minutes and rest for 10 minutes.
 Preheat oven to 450 degrees.
 Cut pieces of dough the size of a golf ball and shape as desired (twists, circles or whatever you wish). Do not overwork the dough.
 Drop into boiling water until taralli floats to the top. Remove and set on clean dishtowel to drain.
äWhen all the taralli have been boiled, place on baking sheets lined with parchment paper and bake for 10 minutes. Reduce temperature to 350 degrees and continue to bake for 10 minutes or until they are brown in color.
 Cool completely on a rack. 
Icing Glaze
 In a mixer bowl beat egg whites and confectioner's sugar until very stiff. Add the lemon extract and beat to blend. If too stiff for dipping, add a little water and beat again.  Dip each tarali in the glaze and set on a rack with a pan underneath for dripping.
Makes approximately 30 to 35 taralli.