February 23, 2010 - 7:32pm
Since my Pure Rye, 1939 post, I had wanted to do light rye.  In the past, I have done a few (this, this and this most recent one).  The challenge of rye for me is the stickiness, hard to handle, and hard to score.  In this post is a pain au levain with 50% rye.  I solved the problems with very minimal handling of the dough and always with a light dusting of flour, and most importantly, I made sure the surface was very dry before I scored.   Also, to solve the browning issue that I sometimes encounter with the crust, I turned on my oven full blast for the whole time of baking (ie, 250 ºC).  I had to rotate the dough several times during baking, so not one spot got too much heat for too long in one go... what we do for our dough....
This was a 1 kg dough.  Main points of my formula were:
Stiff starter was 15% of final dough flour, which was 50% stoneground organic rye flour and 50% organic plain flour. 
My starter was fed the same flour combination as the final dough.
Overall hydration was 80% (without counting molasses, which was another 8%).
In addition to one teaspoon each of caraways, fennels and coriander powders, I had zest of one large navel orange. 
(The orange juice was part of the 80% hydration.)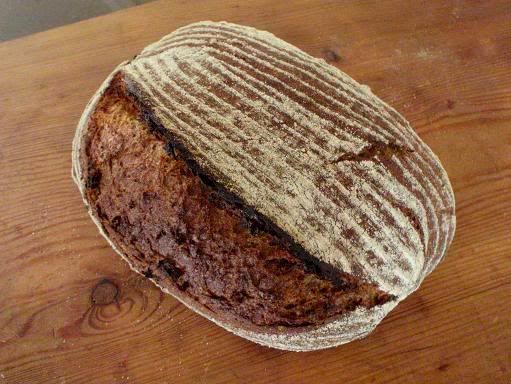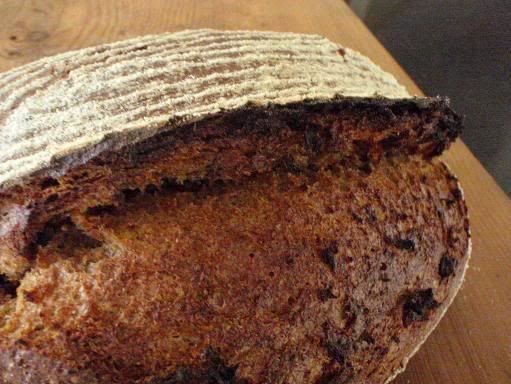 I think I finally found the light rye formula that I like.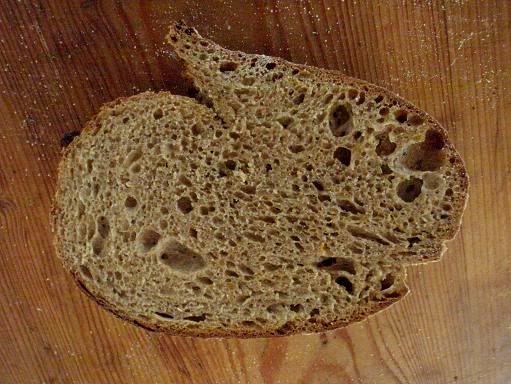 The crumb would have been more open if I had given my dough longer bulk ferment time.  Rather than the usual 3 hours bulk at my room temperature of 26 ºC, this dough should have had much longer bulk time, say 5 - 6 hours or even overnight at room temperature, as the starter was quite low in terms of the final dough flour.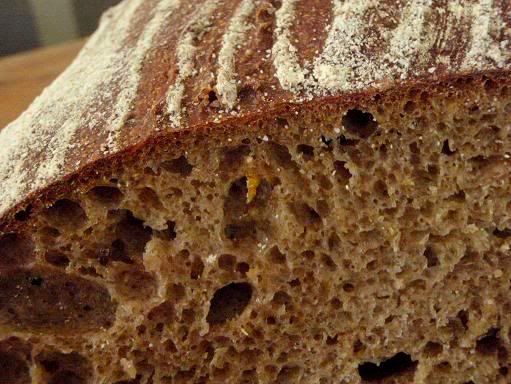 You could see the orange zest peeping out in the crumb shot above (almost in the centre).  Like the herbs, orange can be a dominating flavour.  Any more than one orange zest would have been too much.   I am very happy and excited with the way this bread has turned out.  The excitement I have got from this bread reminds me of the very first sourdough I posted here at The Fresh Loaf last June.
Shiao-Ping