February 13, 2010 - 7:04am
I've been baking artisanal bread only eight months. TFL has been my primary mentor, and inspiration. Prior, I baked bread, weekly, in our Zojirushi bread machine, dutifully turning out three loaves of sandwich white bread, or 40% whole wheat sandwich bread: machine kneaded and proofed, oven baked. For hearth-baked breads we sought out commercial bakeries--San Antonio in the winter months, eastern Connecticut in the summers. On rare occasions I'd buy a packaged bread mix, and bake it in our Zo; we were usually dissapointed.
Yesterday, I was rumaging around in a cupboard, looking for something. I didn't find what I was looking for, because far in the back I found a long-forgotten bread mix: 9 Grain, Hodgson Mill, at least a year old, likely even more ancient. Let me quickly add, I have never been employed by nor reimbursed in any way by Hodgson Mill--I don't even know what state they call home. Neither is it my intention to write this post to praise their mix, but as things turned out...
For the moment, I forgot what I'd been looking for. The bread mix caught my full attention. I opened it; the sealed-cellophane enclosed flour appeared bug free--hard to tell for certain among the ground seed specks scattered throughout. I was doubtful, however, about the yeast packet enclosed; I searched for a date stamp, but found none, and the label's ink looked...well, faded. I briefly considered tossing it all in the waste bin; my Yankee frugalness kicked in, and I considered saving the scant four cups of flour mix to incorporate into one of my future loaves.
Finally, I decided to just make it.
I got out the bread machine--we still use it every third or fourth week--to make our favorite sandwich breads, but it no longer has its own place on the kitchen counters. I tossed out the yeast packet, and substituted a tsp. and one-half from our freezer-kept IDY, known to be fresh. I put the machine on dough cycle, and bulk proofed the dough an additional forty-five minutes, for a total of one hour and fifty minutes. I panned it, and let it rise until slightly more than doubled, slashed it and baked it at the recommended 350°F. Other than replacing the yeast, extending the bulk-proofing time, slashing the top, and steaming for the first ten miuntes I followed the manufacturer's directions.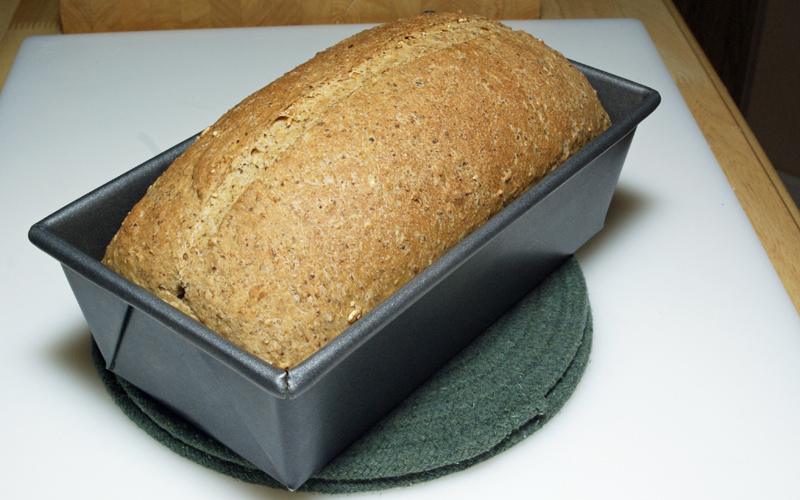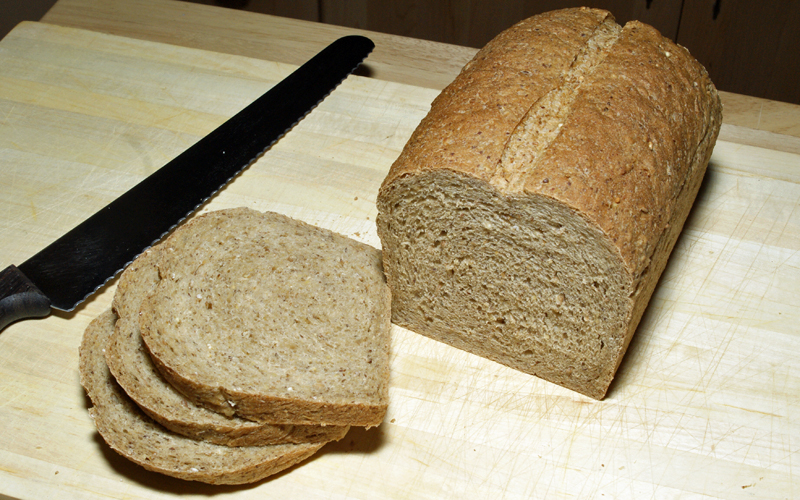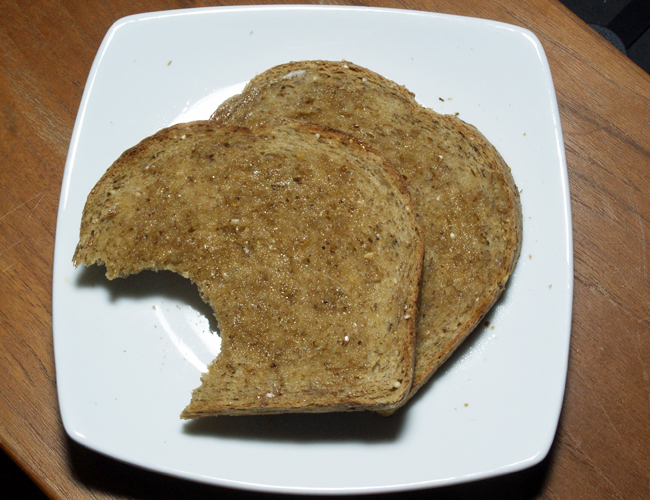 Nothing unrecognizeable (nor unprouncable) in the ingredients. I toasted two pieces this morning, and added a bit of butter and a dab of honey. Mmmm-m-m-m!
So what's the point?
For me, it was a reminder, and a little lesson in humility. I don't have to go to the obsessive degree I do to have good bread. Tasty and nutritious home-made bread is within reach of anyone willing to take a very few steps beyond grabbing a loaf in the bread aisle. I choose to bake because it's fun, and I get an ego boost proportional to the loaves' oven spring, its flavor, and my family's and friend's praises. But at the end of the day, I'm only doing what my ancestors have done, at times with only their hands for tools, and an open fire: baking our daily bread.
David G.