February 12, 2010 - 4:02am
My first blog (lots of pics!)
Well, here it is!  My first ever blog post.  I have been thinking of starting a blog for awhile, if only to keep a catalog of the progress I've made in my bread making over the last year or so.  It is difficult to quantify progress without something down on paper, as it were, so I hope this will be useful for myself and others, being able to look back through recipes and pictures for future reference.  Anyway, I should give some background on my interest in bread baking.  I am an American living in Britain, and was visiting home for a family wedding over a year ago.  My mother had been experimenting in bread making, as she was trying to re-create my parents' favourite loaf from the local bakery.  My mother has baked bread on and off for years, and I dimly recall some relatively dense and fairly dry bread-maker bread from my childhood (her hand baking is much better!).  Anyway, she had recently gotten into the habit of making all the bread they ate (except for the occasional bakery purchase), and my husband I were really impressed with her bread.  One morning we were there, she asked me to put the loaf in the oven for her after it had finished rising, and then because of my interest, she wrote down the recipe she used for her everyday bread.  As soon as I got home, I got some baker's yeast, strong white and wholemeal flour, and I was busy baking.  It took a number of attempts to get the rise right, figure out how to remove the clingfilm without deflating the loaf, etc, etc, but all in all every loaf I made tasted delicious.  Over time, I really got the daily bread down pat, and started braiding loaves for fun, and adjusting different ingredients to get different textures.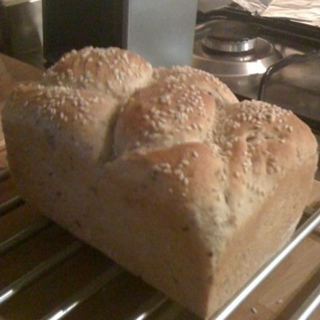 (Sesame, Pumpkin and sunflower seed braided loaf)
Then, in the fall of last year, I came across info about creating your own starter at home, and eliminating the need for commercial yeast.  Ever in search of the healthiest nutrition for my family, I decided to have a go at making sourdough.  Although it seemed impossibly easy, I stirred up equal amounts of white and wholewheat flour and water, covered loosely, and left overnight.  The next day, I discarded half and fed it again, re-covered and waited another day.  By the third discard and feed, there was clear activity, and I was excited!  I baked my first loaf from my brand new starter in a loaf tin, with great anticipation.  I was thrilled to produce a nicely risen loaf with a few big bubbles on top and lots of lovely little bubbles on the crust!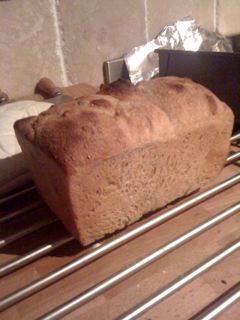 Now, although this bread was delicious and a real triumph, I felt the need to make a yeasted bread for my husband who is less adventurous, and only likes icky cotton wool white bread for toast.  *Sigh* It really does discourage one after all the effort put in.  Nonetheless, our favourite winter lunch is soup and bread, so I was confident that a round loaf for soup dipping would be a hit, and a good way to slip in some wholesome nutrition.  =)  After much research, I started baking round loaves in a covered glass casserole dish and here was my first result: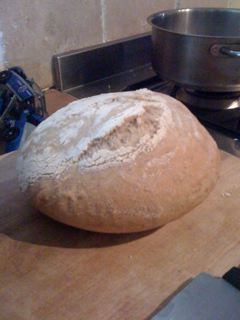 Not the most amazing loaf, I know, but not bad considering it was a first attempt, and I had no clue about scoring, overnight retarding, stretching and folding, etc.  With each loaf (despite the lop-sidedness due to dumping the proofed loaf into the hot bowl) I saw improvements...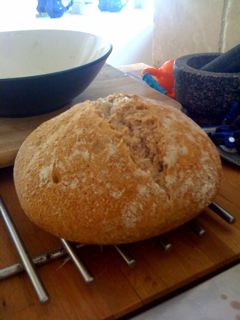 I was even brave enough to attempt a freeform boule, and was very pleased with the result!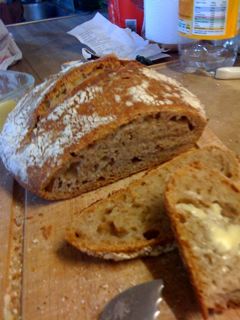 Next I tried a sourdough baguette and tin loaf, which were both excellent: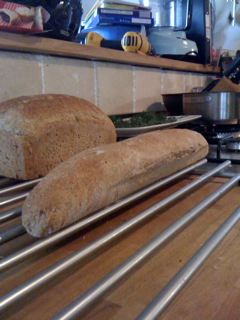 With the discovery of stretching and folding, overnight retarding and a firmer (lower hydration) dough, I managed my best loaf yet, a freeform poppyseed (can't remember the name of the shape):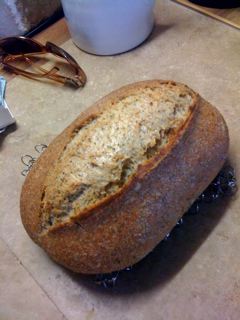 Everything about this last loaf was an utter triumph for me.  The fantastic opening of the slash, the shiny crackly crust, the soft and moist crumb, and the deliciously smooth and subtle sour taste.  I cannot describe my joy in being able to create such a beautiful and delectable loaf, from nothing more than the usual baking drawer ingredients.  What a joy and a privilege!  Here's to many more loaves to come, and thank you to everyone on the Fresh Loaf from whom I've gotten tons of information which is helping me to continually improve and hone my baking skills!