February 10, 2010 - 12:55pm
40% Whole Wheat: Bread Flour vs. Spelt, a side-by-side comparison
I've been reading a lot lately about Spelt flour. My interest was sparked by a seemingly Spelt flour interest-spike among TFLer's, and that I've never baked with Spelt. I've also been wanting to create a 40% Whole Wheat sandwich sourdough bread. We routinely bake a pan-shaped 40% whole wheat straight dough, we're very happy with; however, I wanted a similar, but free-form baked sourdough primarily for grilled sandwiches. I thought it would be fun to do a side-by-side comparison, substituting Spelt flour for the Bread Flour, leaving everything else unchanged, and keeping my dough techniques as nearly identical as possible.
Here's my formula:
Levain:
11 g seed starter (refrigerated, feed every two weeks or more frequently) fed 1:1:1 three time over twenty-four hours yielding 300 g ripe levain. Whole wheat flour used for all builds (represents 16% of total dough flour); levain hydration 100%.
Final doughs:
140 g ripe levain (from above)       16% of total flour contributed
105 g Whole Wheat flour               24%
265 g Bread or Spelt flour             60%
305 g Water                                 70% (includes 70g from levain)
 9 g Salt                                        2%
11 g Olive oil (1 Tbs)                      2.5% 
Procedures: (for both doughs)
Hand-mixed all ingredients to bowl side-cleaning ball; 30 minute rest; French-fold until dough passed window-pane test; retarded bulk proof for five hours @ 55°F with one Stretch and Fold at 45 mins. (The retardation was done only to accomadate my schedule.) Removed from chiller, preshaped, and further bulk proofed at 76°F for two hours. Shaped two batards, and final proofed for one and one-half hours. Scored, and loaded into pre-steamed oven, at 500°F. Immediately lowered oven temperature to 450°F. Baked first ten minutes with steam, removed steam source and vented oven, finished baking: spelt flour loaf 15 more minutes, bread flour loaf 17 more minutes. Cooled completely.
Although these doughs are relatively high hydration, because of the high protein flours the doughs formed soft balls. From the beginning these doughs were different to the touch. Both exhibited comparitive extensibility, but the Bread flour's gluten developed noticeably stronger than the Spelt flour's.  The Bread flour dough shaped more tightly than the spelt flour, proofed more firmly, and exhibited more oven spring.
Obviously, the Bread flour loaf is in the foreground.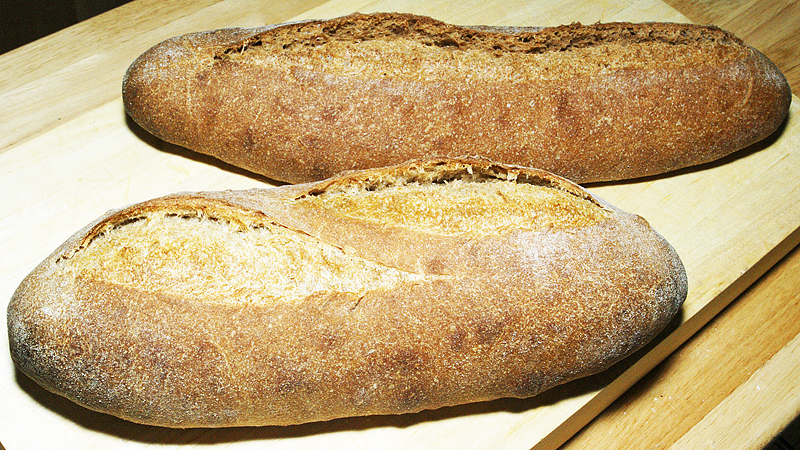 The crumb. The bread flour loaf's crumb, while closed (as desired) is lighter, and softer than the spelt flour crumb which borders on the edge of 'dense".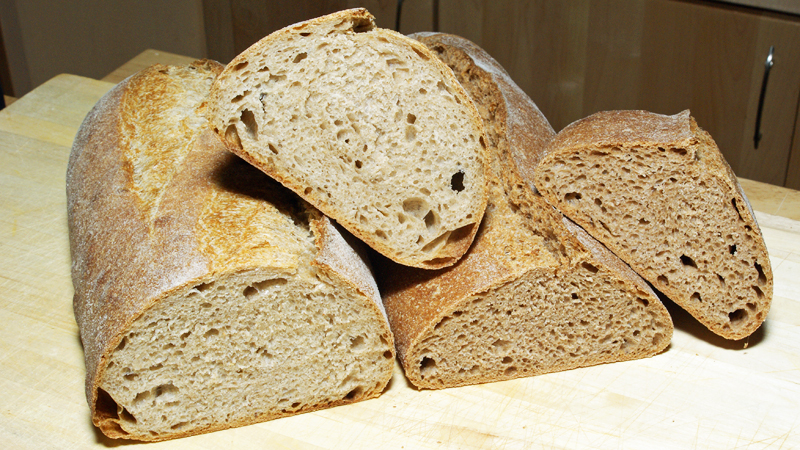 My wife and I taste-tested both breads. The bread flour loaf exhibited the familiar whole-wheat flavor we both like, and the crumb was soft, again as we like in a sandwich bread. The spelt flour loaf had an agreeable flavor--I presume "it" is the flavor of spelt flour--but the whole wheat flour flavor seemed entirely masked.  We shared a second slice of each, but our impressions didn't change. We like them both, but the bread flour formula will stay in our repetoire; spelt flour will have to wait for another formula, another day.
David G
Following the advice of a couple of you, today I baked a 40% whole spelt flour version. Its dough was considerably more slack than the 40% whole wheat flour, everything being the same except for the spelt flour. Consequently, I wasn't able to shape it as tightly, and it spread more during final proofing. Nonetheless, it had comparable oven spring--the crumb appears more open than the whole wheat version.
We like the flavor; it's more subtle than the whole-wheat presence in the alternative loaf. I think for now, we'll keep this formula in our book, and look for a local source for white spelt flour.
The loaf: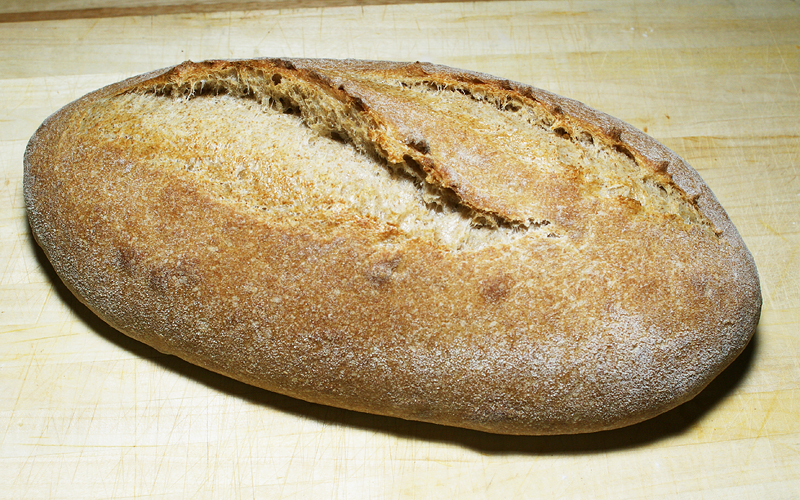 and the crumb.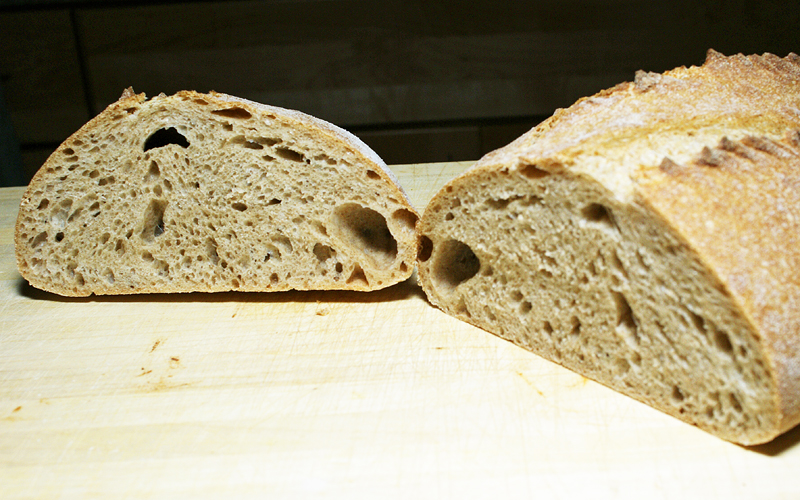 Thank you all for sharing your expertise and advice.
David G.