February 6, 2010 - 9:29pm
Heléne Johansson's Bröd, Från Brunkebergs Bageri (Bread, from Brunkebergs Bakery)
I love buying bread books in all languages, the most inexpensive way of virtual travels and experience for me.  I came across a book by Swedish baker and owner of Brunkebergs Bageri (Brunkebergs Bakery) in Stockholm, Heléne Johansson's Bröd, Från Brunkebergs Bageri (Bread, from Brunkebergs Bakery).   Her love and passion for bread exudes from the book.  For the first 15 pages of the book on the web, please click here (sorry, her serious breads are not on these first 15 pages).  The book says she has used each recipe thousands of times.  Her range of breads depends on "how her own spirit falling on," she says.
What attracts me is her gutsy bold style of baking.  Every one of her bakes in the book looks to me a rustic beauty, not dainty, but extraordinary.  I find her spirit exhilarating. 
The purpose of this post is twofold:
(1) to see if I can do the same with my oven; and
(2) to experiment with the Australian "plain flour."
Like many home bakers who have come from a pastry background before taking on bread, I had steered clear of pastry flour and had developed a blind faith in bread flour.  I was scare to touch lower gluten flour.  In Australia, there are two types of pastry flour - plain flour and self-raising flour.  I am told that plain flour is equivalent to the American all-purpose flour.  However, the typical protein level of plain flour is 9.1 - 10.1% whereas the American all-purpose flour, using King Arthur's as an example, has a much higher protein of 11.7% (but I do not know if I am comparing protein at equal basis).  I guess the important difference to me is that KA's all-purpose flour is made from hard winter wheat, but the Australian plain flour, being essentially used for pastry baking, comes from soft wheat.   On protein alone, the plain flour is closer to the French T55 flour than all-purpose flour.  When I was deciding whether or not to go ahead with my experiment, I saw rossnroller's gorgeous Pain de Campagne on Sourdough.com, which used plain flour in place of all-purpose flour.  That was about a month ago.  I decided then that no theory or technical knowledge is better than hands-on experience. 
Now, scroll forward a month later.  I am happy to report that (A) the plain flour can do the job; but (B) I suspect that the plain flour is designed to accompany a lot of enrichments (butter, sugar, and many other add-in's) because on its own it does not have a fermentable quality like proper bread flour.  The analogy is rice.  The Japanese rice and the Taiwanese rice (see, I am biased) can be eaten on its own, but other rice, especially the Thai and all other long-grain rice, is dry in its intrinsic quality and is to be eaten with a lot of gravy, eg. curry sauce, because it cannot stand on its own.
So, that's it for me with the plain flour.  Go back to my bread flour.
And, as far as bold and gutsy baking goes, the following is as much as I could get with my oven: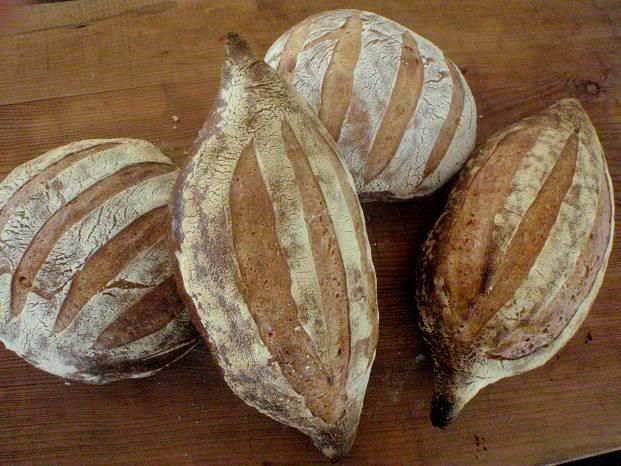 Because of the way my fan oven sends out heat, it did no good if I just turned up the heat - I got burned pointy toes and not nearly as brown on the top as on the sides of the bread as below: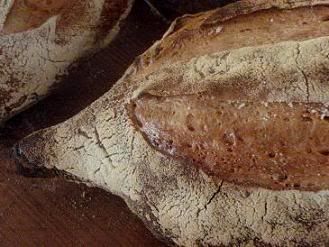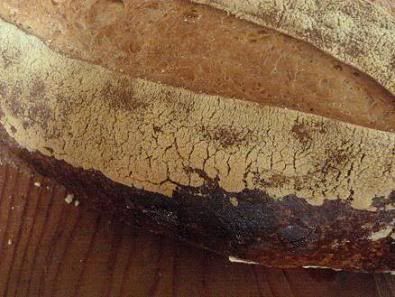 I tried to position my baking stone in a different spot in the middle of my oven but it didn't seem to make any difference.  When I was at the beach duing our Christmas holiday, the oven in the unit came with top heat as well as bottom heat.  It browned the top of the dough beautifully and easily.
I enjoyed my bread just the same.   This batch of bread had 3% rye and 7% WW in both levain and final dough.  The stiff levain was built in two stages.   The overall dough hydration was 69% (including 3% olive oil).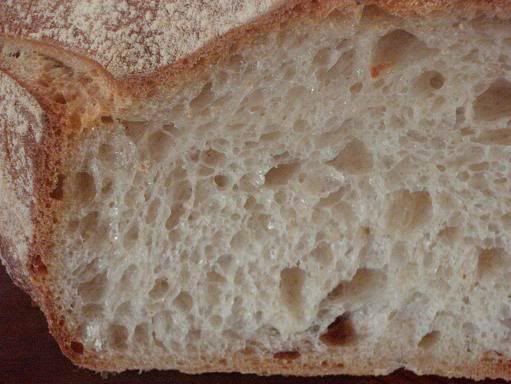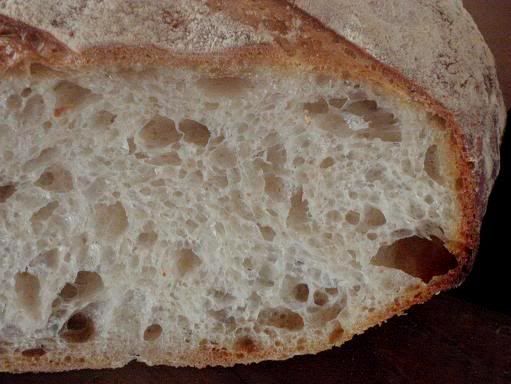 If I ever get a new oven, I would like one with separate heating elements for the top and the bottom, and I would like an in-built digital temperature reader.  (I am not greedy.)  But I know, the day I get the gadget perfected is the day I drop the incentive to baking to perfection.  (So, it's best that I don't get it.)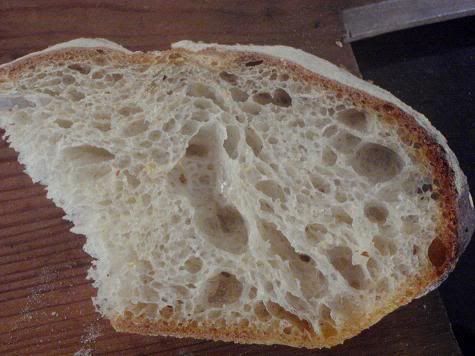 Shiao-Ping