February 4, 2010 - 7:57pm
Stiacciata Alla Fiorentina - Sweet Carnival Pizza
Recipe from 'Lorenza De Medici's - Tuscany The Beautiful Cookbook'
Like most Italian Cakes, this sweet Florentine pizza is linked to a religious feast: "Carnival". 
  At one time lard was used instead of butter, which added to the flavor.

  After seeing this recipe in my cookbook,  I searched online for more recipes of this Sweet Carnival Pizza.  The only ones I was able to find were  written in Italian.  This was a frustrating and unfamilar dough for me to handle which resulted in me not following the exact procedures discribed in the recipe.  I was sure I had a total disaster on my hands.  After seeing and tasting my final bake...I may...may attempt it again!  It is a delicate delicious buttery flavored cake, lightly sweet with a lovely hint of lemon and would go perfectly with a glass of wine or a cappuccino or just a big glass of milk.
If anyone is feeling venturesome and care to give this recipe a try I have written it down with just a couple of modifications.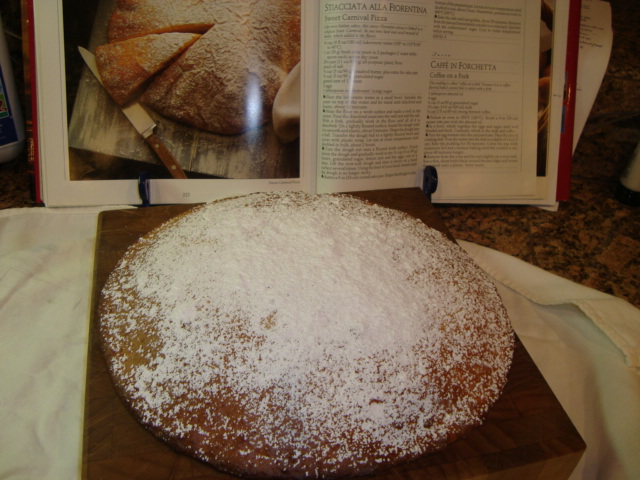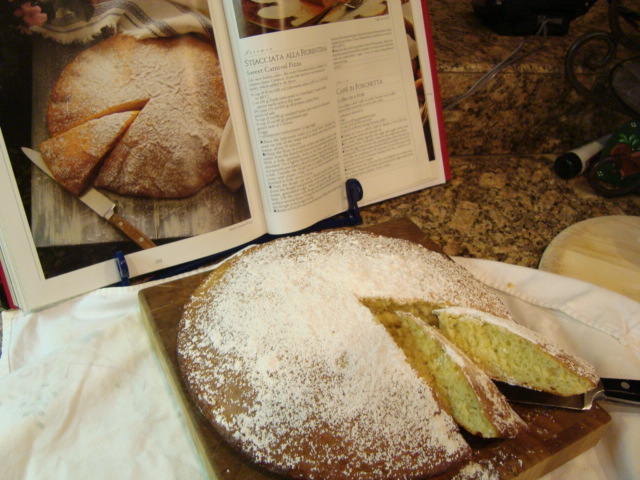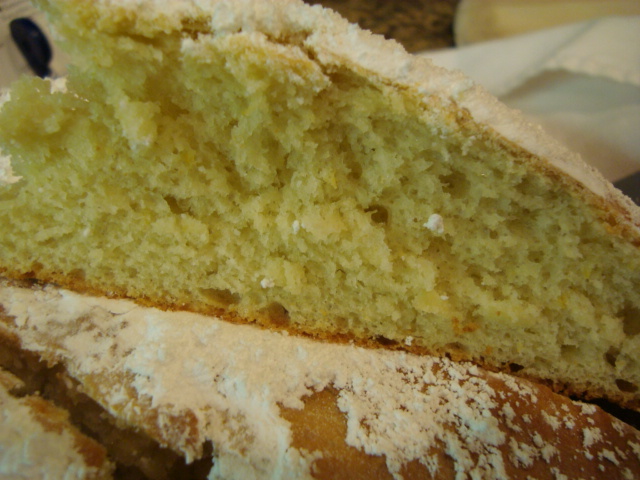 6 fl oz - 3/4 cup - 180 ml        Lukewarm water (105F to 115F)                    

                                              1 oz (30g) fresh cake yeast or 2 packages (1 scant tablespoon each) active dry yeast-  I used the
                                              Gold IDY because of the extra sugar in the recipe.
                                              11 oz/330g  All Purpose (plain flour) flour  - I used KAAP flour
                                              pinch of salt
                                              3 oz/90g  Unsalted butter, plus extra for cake pan  -  I used my round metal pizza pan
                                              3 oz/90g Granulated sugar  -  I used Extra fine baking sugar
                                              grated zest of 1 lemon   -  Large organic off my tree
                                              2 Eggs
                                              1 Tbsp. Confectioners' sugar  -  I used extra for added sweetness
      Place the lukewarm water in a small bowl.  Sprinkle the yeast on top of the water and let stand until dissolved and foamy, about 10 minutes.
      Heap the flour on a work surface and make a well in the center.  Pour the dissolved yeast into the well and add the salt.  With a fork, gradually work in the flour until all of it is absorbed.  On a lightly floured surface, knead the dough until it is smooth and elastic, about 5 minutes.  Shape the dough into a ball.  Transfer the dough ball to a lightly floured bowl and cover with plastic wrap.  Let rise at room temperature until doubled in bulk, about 2 hours.
      Turn the dough out onto a floured work surface.  Punch down the dough and gradually work in the 1/3 cup (3oz/90g) butter, granulated sugar, lemon zest and the eggs, one at a time.  Lift the now-soft dough and slam it down on a hard surface several times.  Using the heel of your hand, knead until the dough is no longer sticky.
      Butter a 9-in (23-cm) round cake pan.  Shape the dough in the bottom of the prepared pan.  Let rise at room temperature until doubled in size, about 1 hour.  Meanwhile, preheat an oven to 400F 9200C).
      Bake the cake until just golden, about 30 minutes.  Remove from the pan and immediately transfer to a wire rack.  Sprinkle with the confectioners' sugar.  Cool to room temperature before serving. 
Sylvia