February 4, 2010 - 11:54am
Hello all. 
Growing up in the rural South, the women in my family (tennessee and alabama) made biscuits unconsciously. Talking, doing ten things and all the while flour was flying and hands moving without measuring, no fancy equipment, the most rudimentary supplies and out of their ovens came the lightest, soft as a cloud biscuits, apparently without having to think about it. Today, a 'southern biscuit' is a cakey thing like this - foodies everywhere call this a 'southern biscuit' - 
- which is not what I (we) knew as a real Southern Biscuit. Maybe in places around the South that's a biscuit, but not in my experience. In my world a southern biscuit was identical to what you can get today at the Loveless Cafe -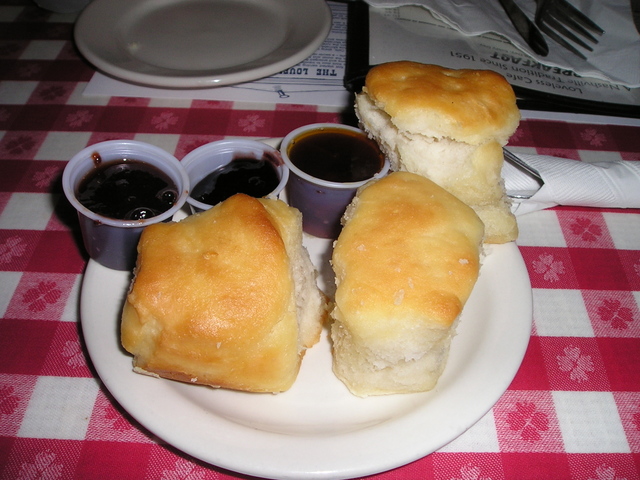 See the difference? The top 'biscuit' is crusty and crumbly. This bottom photo is soft, has a little chew to it, light as a cloud inside, the outside buttery and smooth instead of rough and crumbly. 
I should have paid attention as a young girl, and I did to pecan pies, apple pies, buttermilk cast iron fried chicken and collards and most especially to real Southern Corn Bread in a skillet, but the biscuit magic passed me by. Almost ten years now I've tried every recipe under the sun to duplicate the biscuits I remember that are exemplified by the Loveless biscuit above, but without success. I'm asking for help to understand the difference between these biscuits. I can make the top cakey, crumbly crunchy biscuit from 200 different recipes, but the bottom biscuit is eluding me. From White Lily flour to specialty flours from King Arthur to Bakewell Cream leaveners to all sorts of tricks and tips, they all turn out like #1. 
Does anyone know the real, definitive, actual difference and how to achieve it?
Once I found this Forum I hoped some pros can point me in the right direction. Thanks to all and I'm excited to see what your answers will be. Remember, I'm not here to debate the merits between biscuit styles, or to try more recipes for the top biscuit. I'm after the bottom biscuit. 
Thanks!  Sheryl