February 3, 2010 - 11:31am
In another thread a few days ago, Andy (ananda) was discussing what a true artisan bread looked like and clipped a photo of this white bread in with a beautiful crumb structure. I asked him if he would share the details, which he was kind enough to oblige me.
The more proper name for this would be a Pain au Levain with mixed formula starters. It is made entirely with bread flour in my case and is truly a wonderful bread, even though I had a little trouble at the end. Here is the post with the formula I used.
This mix makes 3760+ grams of dough which I divided equally into 4-940g loaves. You could make half the batch easily enough but I needed some bread for friends I hadn't gifted in a while so I made the 8 Lbs.
The first build of a starter is done using a 100% feeding which gets it going on a fast pace. The second elaboration is done at 50% with the over all hydration thus far at 60%. The final dough mix is a 65% hydration mix so it is much easier to handle than the 80% Rubaud dough I have been playing with recently.
Another interesting aspect of this formula is that it calls for an overnight retarding of the starter after the second build. This is unusual for me as a step in the process but the flavor development is certainly noticeable.
I had a little trouble getting the levain incorporated evenly and eventually ended up using my DLX with the hook installed to mix the dis-similar masses. I also mis read the proofing and after 45 minutes baked the first pair of loaves while the remaining pair waited in the cool garage.
As you see, I proofed the first two using a couche and the second pair were proofed in a plastic banetton. And one of the loaves in a banetton was sprayed with water to see if I could encourage cracks. It's hard to see in these images but the crumb is translucent and very nice mouth feel.
I highly recommend that you try this bread. The flavor is outstanding, nutty, great after taste. My neighbor just called to tell me it was their favorite so far and they get a loaf of many many different breads.
Thank you Andy, this is truly a Wonderful White bread. Next time I'll let it proof longer, and there will be a next time.
Eric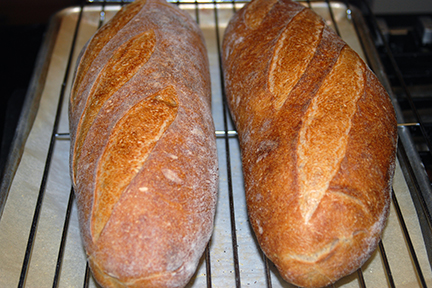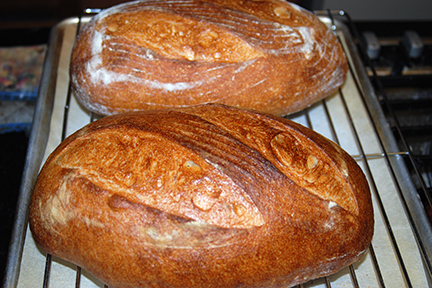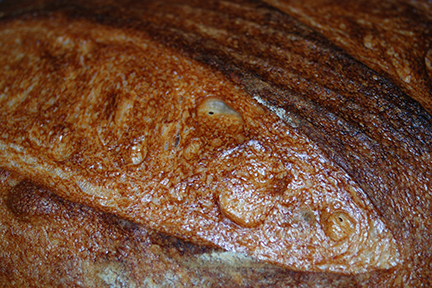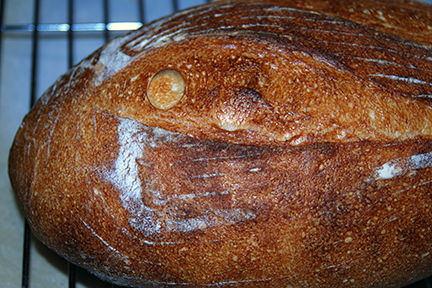 Is that a Fish?