January 27, 2010 - 6:38pm
A lot of TFLoafers have been doing pizza's.  Hopefully you are like me and never tire of pizza photos : )  It must be the weather.  It rained so hard water ran inside my WFO and now I can't fire it up until it dries out.  I learned my lesson.  Not all storms are the same.  So from now on the oven front gets covered for storms.  It just makes me want pizza even more not being able to fire it up.
The very thinned crusted pizza's where made with the Neo Neapolitan pizza dough recipe from P. Reinhart's 'American Pie'  I like this recipe because at least for me it can be shaped for either a thin or thick crust.  I used ADY instead of IADY and that helps the dough to stretch nicely or become a little more extensible.  I make up several pizza balls and freeze them for quick night pizza dinners. 
I made a white sauce that was very delicious.  It was made with heavy cream, cream cheese, fresh basil, EVOO, sea salt-pinch and garlic.  Then the pizza's where topped with the sauce, mozzarella, parmesean, jumbo chopped fresh raw shrimp, fresh lemon thyme leaves, lemon wedge and a lemon thyme stem for garnish.  The pizza's where baked on stones at 550F in a pre-heated 50 minutes oven.  My husband said the pizza's where very delicious and he loved the sauce.  I almost didn't get the photos.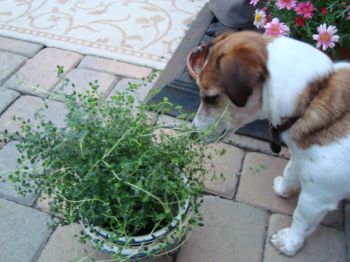 Joey Boy, checking out the fresh Lemon Thyme!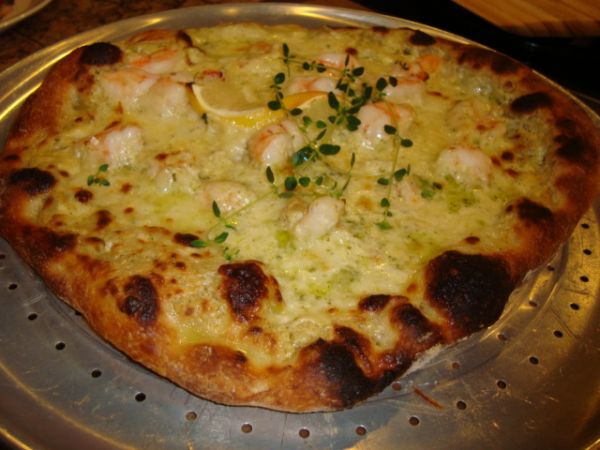 Placed upon a perforated pan to keep
crisp while being sliced.
  Super thin crust.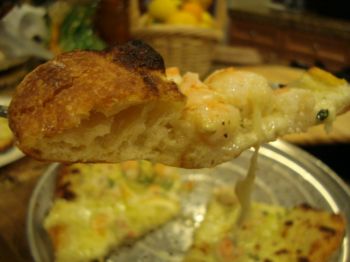 Crumb of the Crown : )
Sylvia