January 24, 2010 - 9:34am
Initial flirtation with Norwich Sourdough: Promising!
David Snyder was kind enough to point me to Susan at the Wild Yeast.  I couldn't do his two recommendations because I have no mixer, so after lurking around Susan's web site, I thought I'd give her Norwich Sourdough a try.  It called for the use of a mixer, but I mixed the ingredients by hand.  This recipe is adapted from Hamelman's Vermont sourdough. 
Susan's instructions were easy to follow, and I followed her steps to the letter...well almost.  I overlooked a few things which may have contributed to the final product being less than perfect.  Entirely my fault.  But as a first attempt, I was tickled pink. 
Here's what came out of my oven last week:
I reduced Susan's recipe by half so that if I ended up with a fiasco, I wouldn't feel so guilty about wasting that much flour.  She said to shape into a loaf, but I was forced to form a ball instead because the dough was very wet.  It was difficult to handle; to my surprise, it still was unmanageable after a 12-hour fermentation/retardation in the fridge.  On hindsight, I should have remembered Susan's advice to hold back on the water.  Next time I'll add the water gradually and not in one fell swoop.
The taste was excellent.  The sourdough flavor was there all right, and I'm glad I gave my starter the TLC it deserved.  I started the culture on the 17th of December but deliberately left it in the fridge for a whole month before using it.  I had read some posts that sourdough novices won't taste the sour with their first bakes, but for this first attempt, I'm glad the flavor came out - firing on all cylinders!
Another mistake:  I didn't take out the pan holding the water for steam after 12 minutes as Susan instructed.  I left it there for all the 35 minutes and while I liked the color, I probably would have obtained a fuller, richer brown if I had taken the pan out.
So, if I were to produce a report card for this initial try, it would look like this: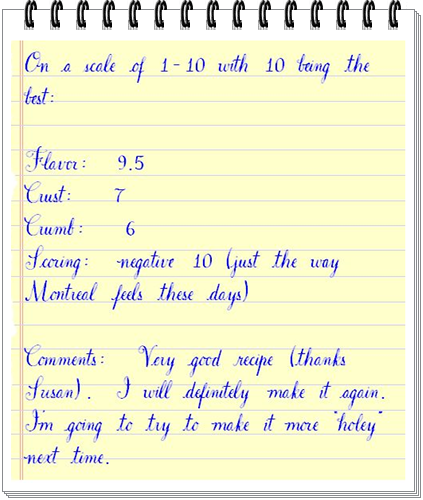 The crumb had a chewy, dense texture.  I'm going to aim for a lighter crumb with more holes.
And this is where I ask TFL's sourdough experts for some help/advice:
a)  should the stretch and fold technique really replace the standard 10-minute kneading that I normally do for sweet rolls, yeasted breads and others?  My impression is that the folding and stretching should be done gently, but I stumbled upon Richard Bertinet's youtube here, and he was slapping that dough around.  If dough could talk, it would scream "ouch"!  Has anyone tried his method?  He recommends this for sweet dough. He teaches in Bath, England.  Here's the link to that video:  http://www.gourmet.com/magazine/video/2008/03/bertinet_sweetdough: Can his method be used for sourdough?
b)  holes:  are they the result of stretch and fold or high hydration, or both?  Stretch and fold - the way I understand it - is primarily to trap the gas, hence creating those holes.  Is this correct?  And then I read somewhere that it's the high water content that brings about more holes.  So the wetter the dough, the more holey the bread becomes?
I welcome your opinions!
Next time I make this recipe, I must:
a)  pour the water gradually
b)  take out the steam-generating pan after 12 minutes
c)  learn David's scoring techniques pronto!
Anything else to add to my to-do list?