January 18, 2010 - 12:39am
Breads and Spreads: 4th Annual Open House
We've been baking and cooking for the past week for our annual open house. We started doing this four years ago to share our homemade wines and brews with our friends and neighbors. With my new-found interest in improving my baking skills, my wife dubbed this year's efforts "Breads and Spreads". We served two sourdoughs, baguettes, vollkornblot, and light rye. We also offered a potpourri of rye sourdoughs: one with walnuts, one with walnuts and blue cheese, and the last with chestnuts and feta cheese. Our forty-five guests ate them straight or topped with capacollo, tappenade, sun-dried tomato and basil pesto, butters (plain, roast garlic, herbed, or whipped with honey).  We made three hummus (traditional, roasted red pepper, and sundried-tomato with roasted garlic), and baked lavash to scoop them up.
We also made three biscotti--tart cherry and walnuts, citron and hazlenuts, and a savory choice: parmesan and black pepper--to pair with the wines.
The wines: sauvignon blanc, viognier, pinot noir, a super tuscan, bergamais, and cabernet franc ice wine. We also made a pilsner, nicknamed "Better than Bud", and our three year old Barley Wine (technically a beer) tastes like fine sherry, with a hint of hops.

The steamed up plastic cover in the center contains just-toasted baguette slices for the bruschetta to the right of it.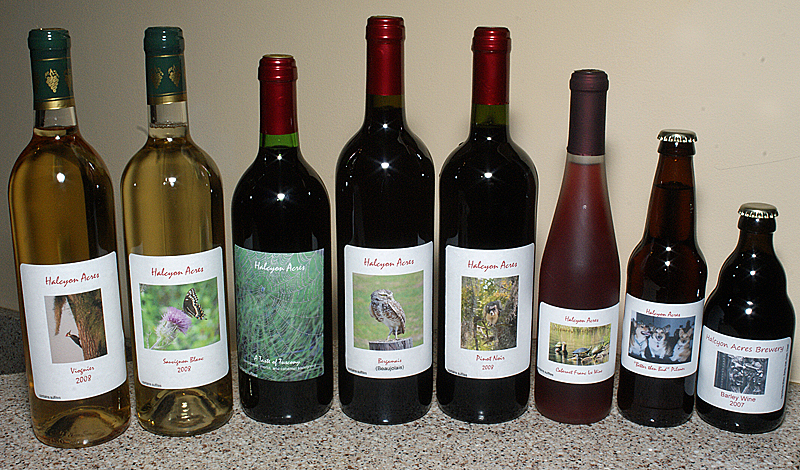 The label photos are mostly of critters and crawlers in our pastures, or a nearby state park.
David G