January 11, 2010 - 6:27pm
"EPIC" Chocolate Sourdough
Things have finally settled down after the holidays and I was ready to throw some flour around. I started going through the recipes I have bookmarked.  Shiao Ping's son's description of the bread as "EPIC" had me hooked for the next bake. I have fresh hazelnuts in my pantry that I roasted and added to the mix along with some dried cherries.

The dough is slightly stiff and it takes a bit of work to keep all the goodies in the bread. I did use my Kitchen Aid to get the initial dough mixed. From then on I followed Shiao Pings directions. Next time I may use the mixer to fold everything in and then do stretch and folds as she instructs.

I did not refrigerate my dough due to lack of room in my refrigerators. Instead, I wrapped them in a plastic bag and put them in the garage at around 40-45°.

I must admit I was hesitant to bake them off cold. I had no need to fret, the oven spring was excellent. My only other quandry was what the internal temperature should be. After baking for 40 minutes the temperature was around 160° and it felt a bit soft. Another 10 minutes and it was at 180° and I should have let it be. But, I put it back in the oven for another 10 minutes and this time it came out at 200°. I think the crust is going to be really hard. The second boule I baked for 45 minutes and it came out at 190°. I think part of the reason the temp was higher quicker was that the oven door wasn't opened and closed so many times.

We are waiting patiently until after dinner to have a taste. If they taste as good as they look, we're in trouble!! I'm betting they will be "EPIC"  !!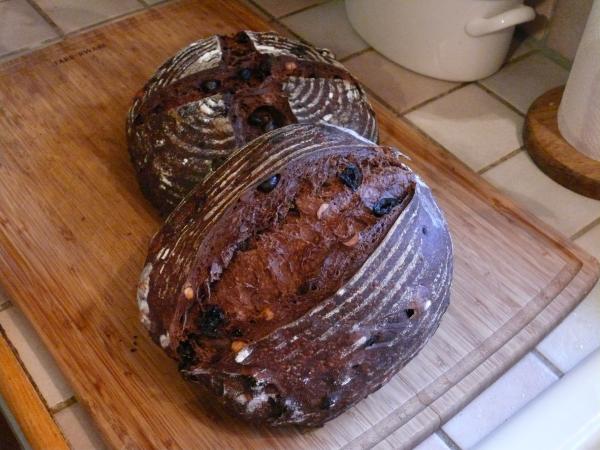 Thank you, Shaio Ping, for sharing.

Betty