Sourdough no-knead --diagnosis?
I just tried my first attempt ever at a higher-hydration dough, and at not kneading all the CO2 out before shaping.  Bwraith's discussion of adapting the NYT no-knead to sourdough seemed like a good one to try: http://www.thefreshloaf.com/node/4420/nyt-no-knead-sourdough-conversion  I have a very healthy mature 100% hydration sourdough starter, just reinvigorated the previous night.
The loaf that came out is amazingly tasty: nutty, chewy and soft with a great crunchy-chewy crust.  (Almost half of it has just made a very enjoyable lunch, accompanied by good olive oil, cheddar and black pepper.)
But it had almost no oven-spring at all.  None.  I had slashed it a little, but the cuts didn't open at all.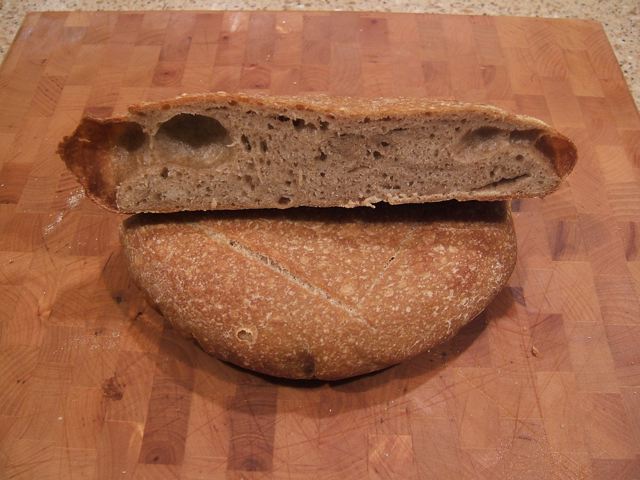 I so want to try replicating this taste.  But the shape seems like a failure.
The only changes I made to Bill's recipe was to make about 1 cup of the weight of Flour stone-ground whole wheat (Bob's Red Mill).  The rest was good reliable KA bread flour. 
I started late morning and couldn't stay up to see the process through on the recommended timing.  So after trying a couple of french folds and fermenting for about 14 hours to get it doubled, I shaped it as gently as I could and set it in the refrigerator (under inverted bowl in mega-sized Ziplock bag) to retard overnight.  It was baked in a well-preheated Teracotta crock after sitting out at (65°F) room temp, after sitting out for a couple of hours.
I suspect over-proofing, though from my limited experience with over-proofed bread (I'm usually too impatient), I would have thought that would make the top of the loaf collapse.  I don't see that in the crumb.  But the shape does dimple in at the center a little.
But I also suspect that my hand was too much velvet and not enough iron.  I have some very massive holes in the crumb. perhaps the yeasts needed to be redistributed a little?
Or perhaps I just used too much Whole Wheat flour. My conscience troubles me about baking purely white bread.  Perhaps I just need to get over that.
Any advice on how to retain this taste but improve the shape and size would be appreciated.
Thanks in advance,
Mason