Here are a couple of "brag" photos of my New Year's Day bake.  I'm a graduate student at the University of Toronto, so I won't get to bake very much until the Spring term is over in April.  I received Reinhart's new book, Artisan Breads Every Day, for Christmas.  I had been a tester for a few weeks at the end of the process. So, I took a three-day tour of several recipes.  I built up starter on day 1, made final doughs on day 2, and baked on day 3.  Thanks as always to you TFLers for your inspiration, education, and general joie de vivre.
This is the whole bake, which includes Many Seed Bread, Soft Sandwich Rye, Whole Wheat Sourdough Hearth Bread, 100% Whole Wheat Sandwich Bread, 100% Whole Wheat Rolls, and Pain au Levain with Cherries and Blue Cheese.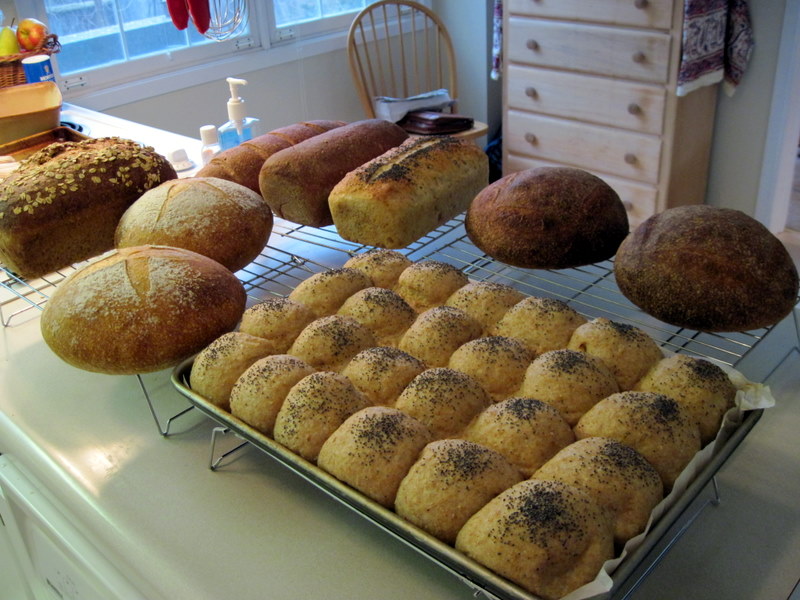 This is the Pain au Levain (purist version with no commercial yeast boost).  I have to express my pride in this loaf.  Good sourdough tang + the sharpness of the cheese + plus the sweet shot of the cherries = the best loaf I have ever made.