December 31, 2009 - 11:30pm
I read in MC's beautiful blog, farine-mc.com, that Miche is not her favorite bread but that she can understand how someone can go wild about it.  She said, "It is a majestic bread ... rich with the lore and fervor of the old days."    That is exactly how I feel about Miche!  "... rich with the lore and fervor of the old days." 
The word, Miche, conjures up for me images of a past full of hardship and labour, and yet, romances, at the same time.  Romances, not in the true sense of the word, but in a nostalgic way, referring to the simple, unsophisticated, and natural way of living.
One of the pseudo-Miche I made was Sourdough 50/50 nearly four months ago.  I was not happy with the bread at the time and had wanted to re-make it ever since.  But, No, I had to do something slightly different.  I could not even follow my own script.  I introduced one more element into my Sourdough 50/50 to make this Miche 50/50/50.  In addition to 50% levain, and 50% Poolish, of the final dough flour, I added 50% old dough.  The old dough was a piece of dough reserved from a previous bake a couple of days ago.  This piece of dough did not go through bulk fermentation or proofing.  It was sectioned off and placed in the refrigerator straight away.
Apart from being whimsical and having fun, I had but one purpose for doing this - to see how adding a piece of old dough would improve the flavour of the crumb, along with the levain and Poolish which I already had.  This is nothing new.  Many people have done something similar.  And here is my Miche 50/50/50: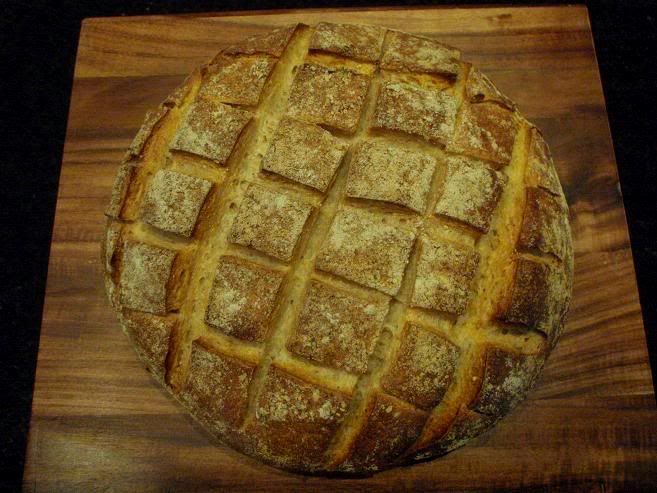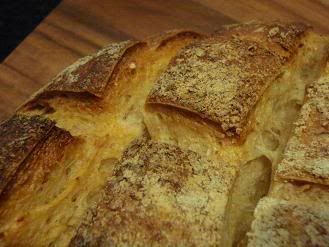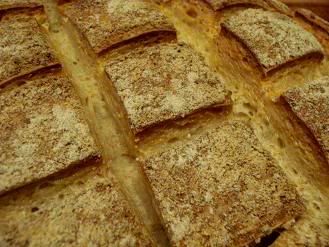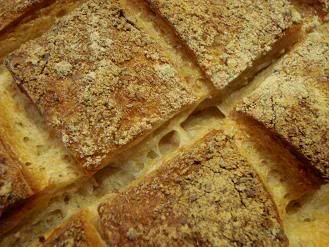 In order to be able to score the dough easily, I went for an overall lower hydration of 63%, compared to 68% for Sourdough 50/50.  I wanted to have some sort of Chinese tofu look  on the crust.  As a result, I gave up some openness of the crumb.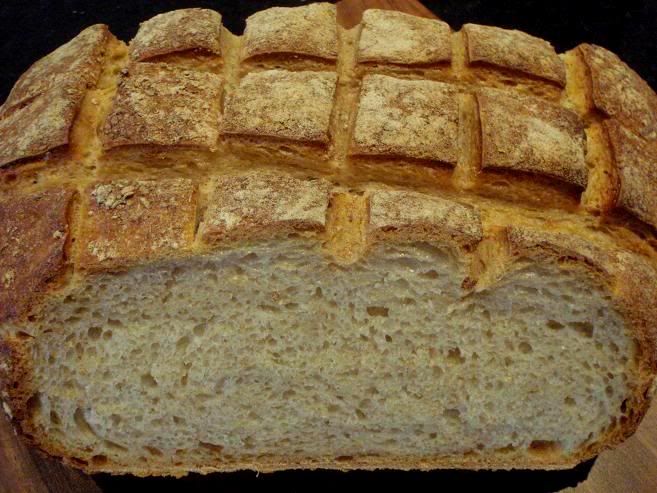 The crumb was exceptionally flavourful, which might come through the close-up shot below: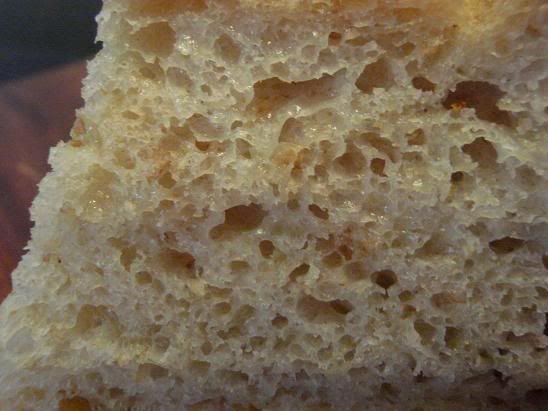 The crumb is very sour to my taste, due to the lower hydration too. 
When I prepare my Poolish, I did not put in a pinch of instant yeast, which one would normally do.  I wonder if this has anything to do with the slightly dense interior structure of the Miche.
If you are interested in trying the idea in this post, I would suggest a dough hydration of no lower than 67 - 68%, and definitely a pinch of instant yeast to go with your Poolish!
Shiao-Ping