December 16, 2009 - 12:40pm
Bread Basket for Family Party
A few relatives suggested that they would love a loaf of bread as a holiday gift this year.  I took that idea and had a little fun.  When we gathered last Sunday, I brought a basket containing five different types of bread in different sizes and shapes for them to choose from.  It was very fun to share my love of baking and everyone went home with a few loaves.  Here's the basket: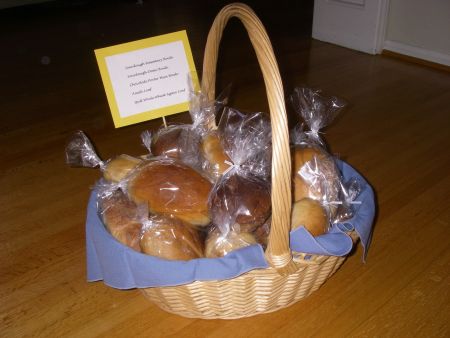 The breads were Susan's Sourdough, Rosemary and Herb Sourdough, Chocolate Porter Bread, Amish Bread, and a loaf I made up of White Whole Wheat, Whole Spelt and Agave.
It's hard to tell from the picture but this is a pretty big basket, over two feet across.
I had a lot of fun planning and baking and hope my family asks again next year!