December 13, 2009 - 2:20pm
Lesson II Bread with Fresh Rosemary
So I decided to start baking my way through the lessons. I used the recipe they gave except I substituted agave nectar for sugar but forgot to half it since agave nectar is sweeter than sugar. The bread came out a little more sweet than it was probably supposed to but then again I kinda like that. I also didn't have any butter (that wasn't expired) so I used one of those buttery spreads which was missing a lot of the salt that I really like. I also added fresh rosemary to it which turned out to give off a subtle taste of the herb. All in all it was pretty successfull. Here are some photos before and after. The loaf did come out kind of flat. This first photo was it raw, right before it went into the oven. The second is right after it came out.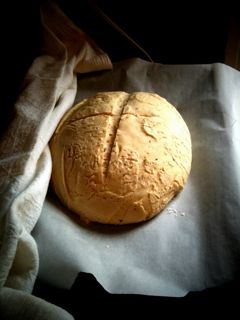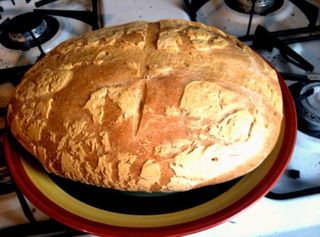 I did have a few questions for you knowledgeable people on this site. 1. How do I get the bread to be more chewy? 2. I want a more 'holey' crumb with less uniformity, any ideas? 3. What can I do to make it less flat? Loaf pan?
For more detail the process went something like this:
•knead bread for 10-15 min
•let it rise in a warm but not hot oven for 1 hour (I would have done it for the full 90 minutes but it appeared to be almost tripling in size.
•shape the dough and let it rise on the pan in the warm oven for another 30 minutes.
•put in the oven and bake for 35 minutes. I did it for a shorter time because I messed up and originally set the oven to 450 so I turned it down and let it bake for a little less time.
Any input would be greatly appreciated. Thanks!
-Murphy