December 11, 2009 - 5:50am
Hi there fresh loafers,
I just joined this community yesterday, while anxiously waitin for my first ever yeast bread to ferment and proof! Since hanukkah starts today at sundown, with sabbat, i was excited to try out a challah bread. I didn't get too ambitious with the braiding, and stuck to a 3 piece braid but i was more than thrilled with the results! Since i have an intolerance to modern wheat protein, i used 100% spelt flour (a mix of whole and light unbleached). I took the recipe from "Second Helpings Please!" and adapted slightly - i traded the sugar for honey and the wheat for spelt. This made a very wet, sticky dough so i had to add (what seemed like a lot) of extra flour to make a firmer dough, but with each rise it seemed to form a more workeable dough... now onto the pictures!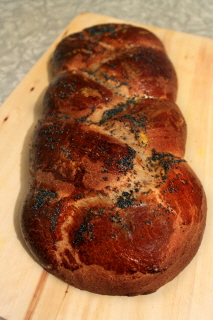 it turned out wonderfully- a nice honey sweetness, light flaky texture (which i have never managed to find with storebought spelt which tends to be really dense) and a wonderful nutty flavour from the spelt.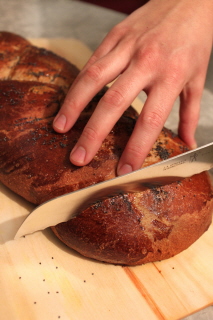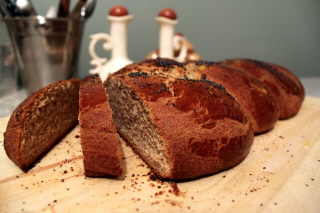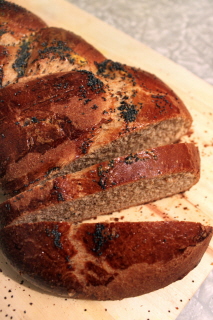 I am an avid kitchen enthusiast, and work at a cafe, dealing with almost 100% organic ingredients and as local as possible (depending on the time of year, obviously here in canada). I look forward to learning more about bread-making and realy getting my hands dirty trying new things!
best to all in this challah-day season!
en