November 23, 2009 - 7:46pm
Christmas stollen - take 1
Well, it's that time of the year again and I'm starting to test/tweak my holiday gift-giving recipes.  Having decided to mix things up a bit this year (no pun intended...honestly!), I tested the BBA stollen recipe today!   The immediate family gave it thumbs up, although my marzipan-shy 8 year old was a little hesitant.  
The long story is this:  Last year I made very traditional English Christmas cakes and sent them out far and wide.  The responses ranged from "mmmm!  brandy!" to "what is it, a candle?" to my brother who recounted how his wife went to work and told everyone about the "strange auntie who sends fruitcake...that requires a chainsaw to get into!" (royal icing...it's SUPPOSED to be hard!).  I decided that stollen might be a little more approachable and, thus, the test run. 
I tried to follow the BBA recipe fairly strictly, to get a baseline from which to work.  With that said, this version has four personal tweaks:
I am quite certain the weight for the cinnamon in this recipe is off.  The suggested .44 oz of cinnamon seems a lot more than the 1 tsp volumetric measure.  I started by scaling and quickly realised there was a problem, then eyeballed the volume.
I wasn't sure if dumping the fruit in meant just the fruit or all the brandy that wasn't soaked up.  I did the latter, then compensated by adding a bit more flour.  It seems to have been a good call.
I made this with a different fruit mix based on personal preferences.  For the total 12 oz of dried fruit, I used 4 oz currants, 2 oz each golden and normal raisins and 2 oz each of homemade candied orange peel and lemon peel.  
I did go for the marzipan centre, as I believe it is essential.
Here are the results:
(be kind to me here!  It's my first time uploading photos AND the camera's battery was flat so I used the built in camera on my mac so as not to miss the moment...very low res.)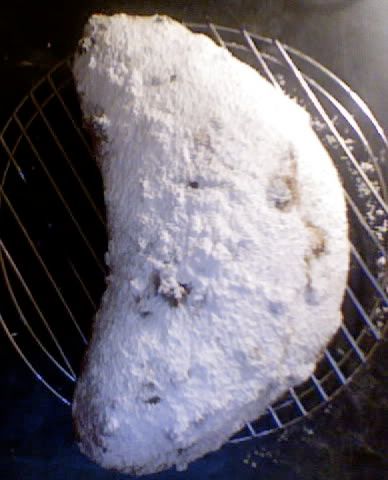 And the crumb, with marzipan centre: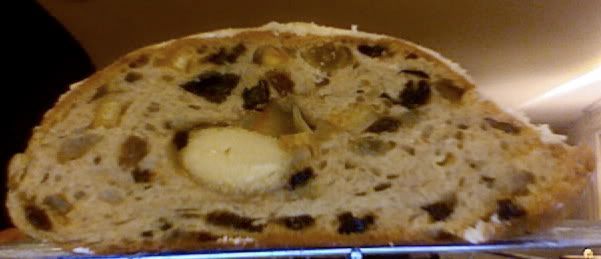 I will DEFINITELY make this again!  Changes I would make next time:
Would shape correctly - see below.
Would use a little less cinnamon ( and measure by volume) or perhaps another spice.  I noticed many recipes have no spice in the dough.
Would more carefully control the rising temps.  I was in and out of our cold house today.
One last comment on shaping... The lightbulb went off AFTER I shaped these, so you may notice it is not shaped "correctly".  It was a little confusing trying to envision the sort-of pleating that takes place to create the pocket on both sides of the top bit.  I'll do it the correct way next time (method 2 in BBA) and may even coops DH into taking a video I can post to help others who were as baffled as I.
I can highly recommend this recipe!
Momma T