November 18, 2009 - 4:03pm
Recent bakes that went well
Here in Texas the weather is cooling off and here in Houston we are catching up on some much needed rain.  Go figure the summer I get a wood fire oven there is a burn ban in effect from, oh, June til mid September.  So this summer I spent most of my time drooling and plotting over my new oven.  We did have time before the burn ban to get some experience with firing it, maintaining temperatures and such.  We still have disasters.  Like the burnt sanwich loaves from last weekend.  My hubby, the fire man, said I needed to put the pans in the oven, but the oven was still upwards of 600 deg.  I knew better but also knew arguing with him was pointless and he could learn the burnt way! 
So in essence I wanted to show off some pictures from some of our recent baking both in the WFO and in the regular oven.
Last weekend we fired the oven Saturday and baked a beef roast (forgot a picture but was very good) and the 5 loaves of burn bread.  Sunday we refired the oven in the am and had pizza for lunch.  Said pizzas are pictured below.  The small ones in the back were made by my 5 yr old and 2 yr old.  Our new favorite homemade pizza is Pesto, sliced romas, cooked chicken and parm mixed with mozarella. And our current favorite dough is Reinhart's Roman Dough from American Pie.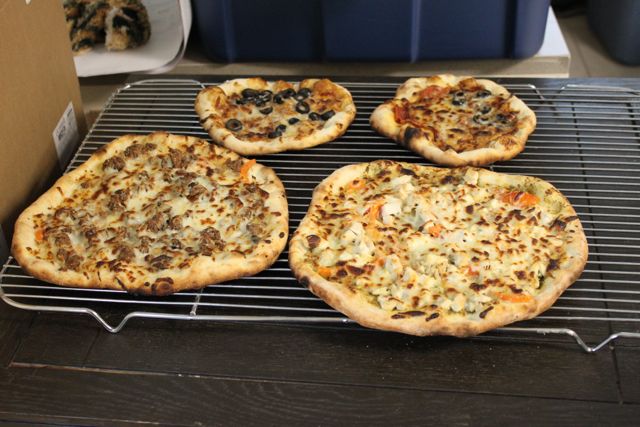 Pizza Bottom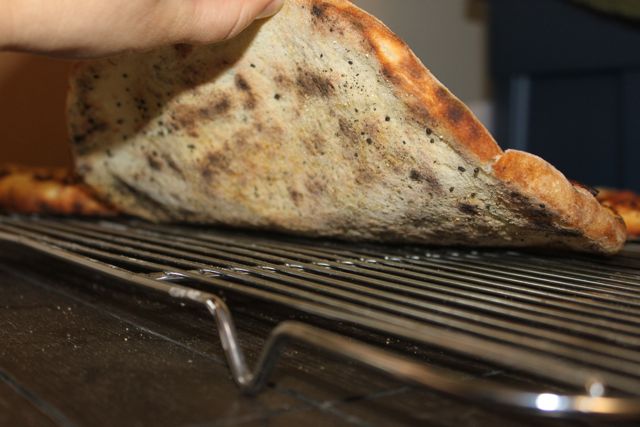 As the oven cooled from the pizza I baked 6 new loaves of sandwich bread.  This time I made my hubby wait til 400 deg to load the bread.  After they baked we refired the oven a little and cooked 2 chickens.  When you cook meat in a wood fire oven the meat gets a great smoky, bbq flavor.  In this picture you can see the chickens and 1 1/2 of the sandwich loaves.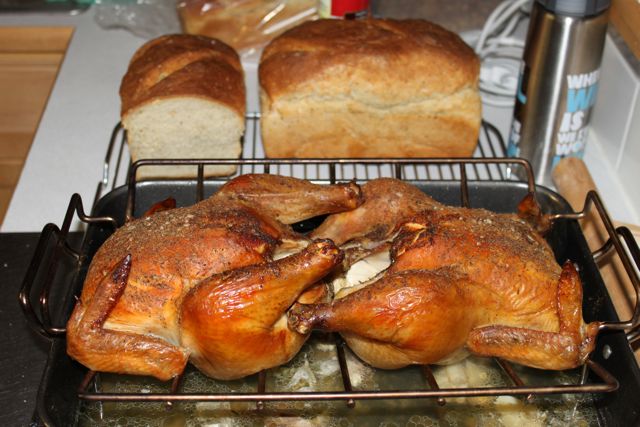 The last one I wanted to add was the sourdough ciabatta I made today.  I am so proud of it!  I used the recipe from here
http://www.thefreshloaf.com/lessons/myfirstsourdough
Anyway, I was proud because this was the first straight wild yeast bread I have made that was open and not gummy.  So all in all I was happy.  It went well with out butternut squash soup tonight.  The first pic is of the loaves, the second the crumb.  And there were cooked in my regular oven.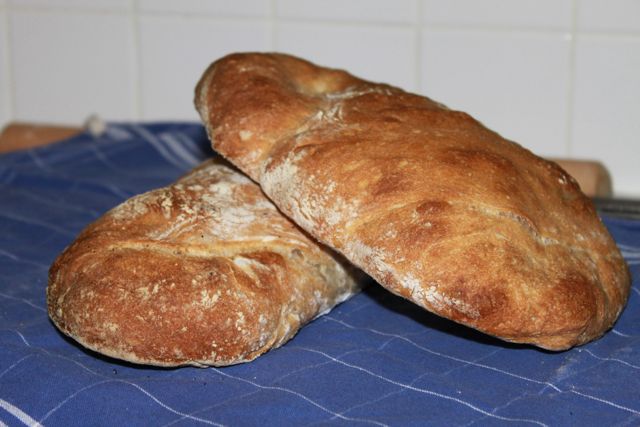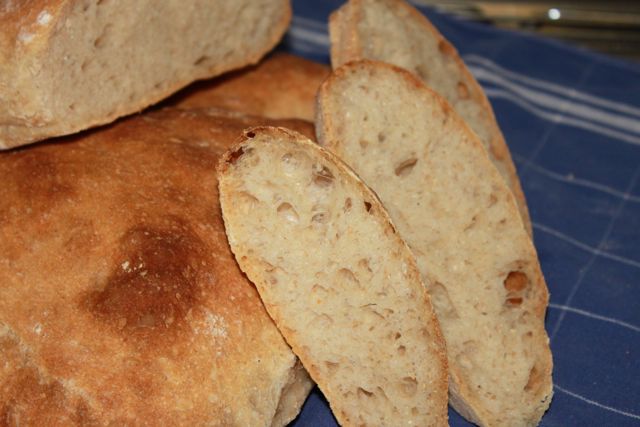 I just wanted to share. :)