November 18, 2009 - 9:41am
Swedish rye -- success and a hearty Thank You to this group!
My family has handed down a Swedish rye bread recipe that I've made many times.  It's a slightly sweet bread that includes a fair bit of molasses.  When I had the luck to travel to Sweden I learned that while our recipe tasted pretty close to similar bread in Sweden it didn't have the right texture -- the crumb on ours was much too open.  Our bread rose tall like a loaf of white bread whereas the similar bread I had in Sweden was dense and baked in a small square like a pullman loaf.
More than a dozen years ago I got a recipe from a friend's Mother who lives in the country side an hour or so North of Lund, Sweden.   The recipe was intimidating to me at that time -- no mention of how long to knead things; it called for hand mixing and I had only done doughs in a stand mixer or food processor; and the measurements were in liters or grams.  Until I found this website a year or so ago I was just too bewildered to attempt this bread.  Between general advice about rye breads on this site and insights from Hammelman's fabulous "Bread" book I finally gave it a try this weekend with amazing results.  I couldn't be happier!
First, pictures, then the recipe below.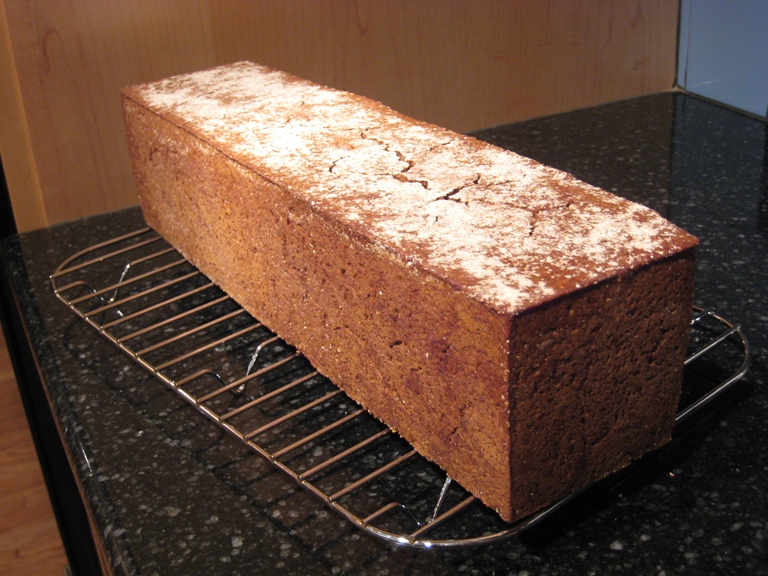 Per Hammelman I waited 24 hours before cutting into the loaf.  It was hard to wait, but here's what I got: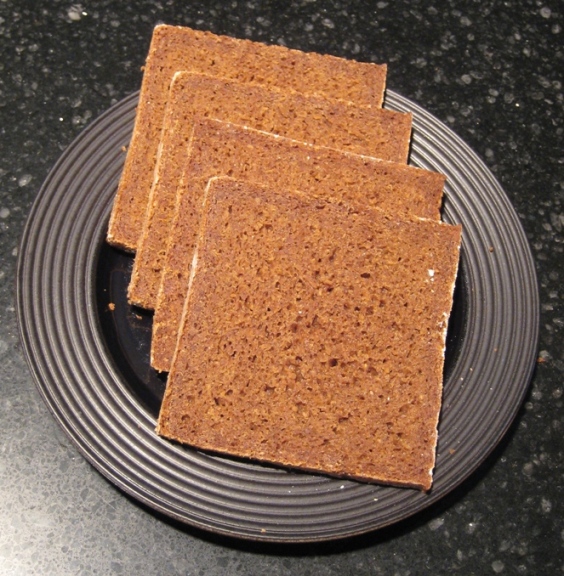 And, now the recipe, converted by me to use weights not measurements. 
Ljus Kavring
The recipe has 3 stages:  First soak some of the rye flour in boiling water and let that sit overnight; second mix more rye flour and the yeast and let that sit for 4 hours; then make the final dough, rise shape and bake.
Soaker:
700 grams water
355 grams rye flour (recipe calls for fine, but I used Hodgson Mills whole rye flour, which is pretty coarse)
18 grams salt
Mix salt and rye flour.  Boil the water and add to the flour mixture.  Stir till well blended.  Cover with plastic wrap and let sit over night.
Rye & Yeast:
350 grams water
355 grams rye flour
15 grams instant yeast
Mix yeast into the dry rye flour, heat water to 98 degrees and mix the water, yeasted rye flour, and soaker in a large bowl.  Mix till well blended.  Use a large bowl because the dough will rise to about double.  Let the dough rise for 4 hours.
Final dough:
276 grams molasses
385 grams wheat flour (I used KA bread flour)
152 grams rye flour
Stir the molasses into the risen rye dough.  Bit by bit stir and knead in the remaining flour.  The recipe said to "knead thoroughly" but this stuff is *sticky*.  I kept the dough in the boal and used my dough scraper to mush the stuff together and gradually I could see that some gluten strands were developing, but in no sense was this a "dough" that formed into a nice ball.   This recipe is 70% rye flour and not counting the molasses has 84% hydration.   You won't ever get it to come togehter like a "normal" loaf.  Thankfully Hammelman had addressed this issue in his various recipes that used a lot of rye.  He warned that you'll see "no perceptible gluten development."  So, I pressed on!
After the dough is well mixed let it rise for 30 minutes.  The dough inflated, although I would not say that it doubled.
While the dough rises, grease a pullman pan and sprinkly the sides and bottom liberally with rye flour.  Grease the pan top as well.  This quantity of dough filled a 16 X 4 X 4 pullman.  It's probably about 300 grams too much dough but I easily lost half that or more to the bowl, my hands, the counter top.  It's a very messy dough!
After the 30 minutes, dump the "dough" onto the counter and knead.  Again, this wasn't "kneading" in any sense that I have previously understood that word.  I just smooshed this amazingly gloppy stuff around on the counter.  Think of your stickiest cookie dough, then make it twice as wet as normal and you'll have some idea of the texture.
Form into a loaf the size and shape of the pan and dump it in.  Smooth it out to fill the pan, flattening the top and squeezing dough to fill the corners.  A slightly dampened dough scraper helps.  The dough filled the pan about halfway.  Cover with plastic wrap and let rise for 30 minutes.
Pre-heat the oven to 175 C (my oven lets me choose either C or F so I just used the C temp setting.  I think 175C is 350F)
At this point I was confident that there was no way this gloppy mess was ever going to make bread.  But to my surprise at about 30 minutes I looked and the dough had risen to within a 1/2 inch of the top.  I used my dough scraper again to smooth it out and flatten the top, which had domed a bit.  Sprinkle the top of the dough with rye flour and put the lid in place.
Bake for 50 - 55 minutes till the internal temp reaches 190 degrees.
Remove from the pan immediately.  Let cool under a towel.  When completely cooled wrap in a linen towel and let rest for 24 hours before slicing. 
Then enjoy a lovely Swedish breakfast, such as this one: