November 11, 2009 - 3:40pm
I want to thank Paddyscake here on the TFL for sharing her raspberry tart recipe last July (divine is the word to describe it).  She said she substituted the mascarpone cheese with cream cheese and used Pepperidge Farm for the crust.  She said despite these substitutions, the pie was just about gone in a heartbeat.

In "Two Pies, One Lie" on my personal blog – www.sotsil.wordpress.com – I featured Paddyscake raspberry tart because I did some cheating of my own.  I bought  mascarpone cheese (almost had a coronary when I saw the price) but berated myself for pairing it with a Graham cracker crust that was idling in my cupboard for two months.  On hindsight, I thought it was kind of criminal to buy expensive cheese and drape it on a store-bought crust.  Nature is very forgiving though; this raspberry tart had a silky, delicious, whistling taste.

The Dutch Apple Pie below was taken from the Canadian Living  Test Kitchen.  For this one, I stayed faithful to the recipe ingredients and procedure.  Nothing was tweaked or substituted.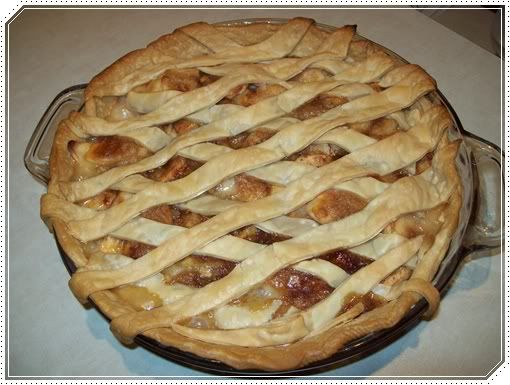 During the fall, there's a lot of apple picking going on in the eastern seaboard of North America.  Quebec's apple route is in a town called Rougemont – rustic, postcard-pretty kind of town.  I used Cortland apples for this one.  The ¼ cup whipping cream gives it a different twist.

For Paddyscake raspberry tart recipe, this is the link:

http://www.thefreshloaf.com/node/12424/kalamata-olive-sundried-tomato-and-feta-bread

(you need to scroll further down – it's a thread that starts with Pam's Kalamata Olive bread).

For the Dutch Apple Pie, I reproduce it below.