November 9, 2009 - 8:26pm
flat baguettes with holes on bottom!
Hello, I've recently been bitten by the baguette bug (perhaps after lurking and reading about the many amazing baguette posts on TFL) and have been trying to make something that's a cross between the Anis Bouabsa baguette and David's San Joaquin bread. But for some reason my loaves always come out flat, with only a tiny bit of oven spring (sometimes).
the strange thing is that I've used my starter in pain au levain breads and it works just fine. and i've made the Bouabsa baguettes without any starter which also worked fine. It seems to have something to do with combining the sourdough starter. anyways, this is the fifth time this week i've tried some variation on the recipe to try to figure out what the issue is. this is the latest formula i've been using, to get a 65% hydration dough:
500g AP flour
50g WW flour
300g water
150g starter (pretty wet, at probably 169% hydragion?)
1/4 tsp instant yeast
10g salt
autolysed for 20 minutes, then did 30 folds in the bowl three times in an hour or so. then refrigerated for about 18 hours. then prehaped and proofed as described in many baguette instructions.
one thing i can think of is that i'm using a pretty wet starter, and for some reason i had put in quite a bit of it. this is somewhat of an arbitrary amount and i'm going to reduce it next time to see if it helps.
another thing is that i decided to do another stretch and fold before the preshaping because the dough looked so slack after the cold rise. could this have "flattened" the loaf? my dough usually doesn't rise much in the fridge at all, and only a little after preshape and proofing.
on all the flat loaves i've made, i've noticed quite a number of holes on the bottom. what might cause these holes?
very holey bottom: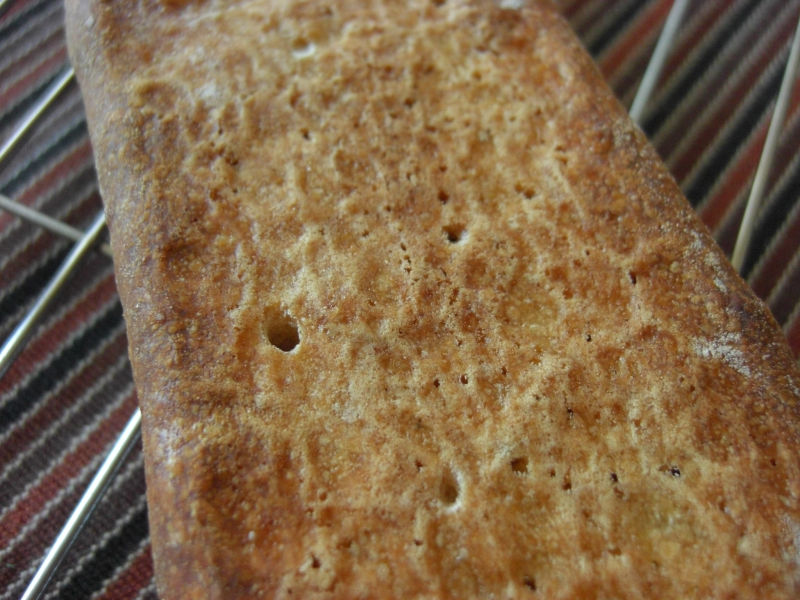 and here's to show how flat the loaf was: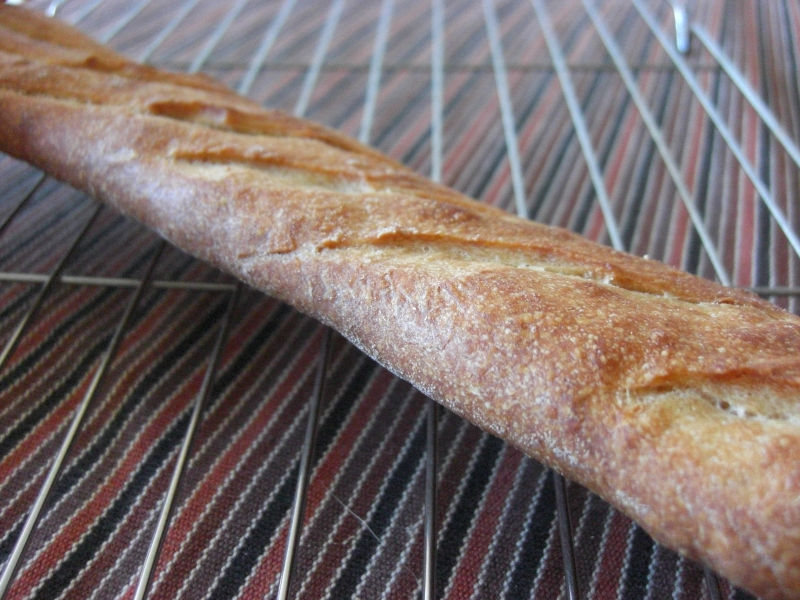 there were a good number of holes of various sizes in the crumb, but it's on the dense side. but at least it's edible and the taste is quite good actually.
for the next batch i'm going to try reducing the amount of starter i'm adding to about 11% of the flour weight, and i'm going to resist the urge to stretch and fold the dough after the cold rise to see if it would make any difference. i would love to hear thoughts from other baguette makers on what i might be doing wrong. Thanks in advance!
will