November 8, 2009 - 10:02pm
Hamelman's Normandy Apple Bread
Today, I baked Hamelman's "Normandy Apple Bread" for the first time. This bread is a pain au levain spiked with instant yeast. It uses a firm starter and bread flour and whole wheat in the final dough. The apple flavor comes from chopped dried apples and apple cider.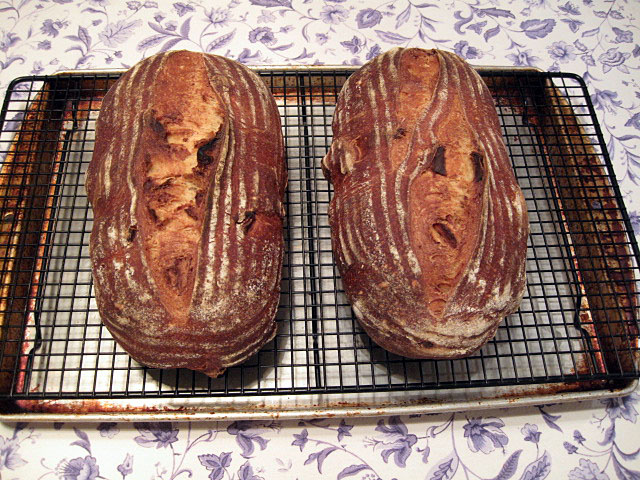 Jeff (JMonkey) posted the formula and instructions for this bread May 19, 2007, so I won't duplicate them here. For those interesting in making this bread, Jeff's entry can be found here: Hamelman's Normandy Apple Bread
I followed Hamelman's instructions pretty much to the letter. I machine mixed for about 7 or 8 minutes and did a French fold before bulk fermentation. I did one more fold after one hour of a 2 hour bulk fermentation. I had to refrigerate the formed loaves for about 3 hours to work around an afternoon outing. I then let them proof about 60-75 minutes at room temperature before baking.
The loaves smelled wonderful while baking. The crust was crunchy. The flavor was somewhat disappointing. The apples do give pleasant little bursts of sourness, but the crumb flavor was not my favorite. It was basically like a light whole wheat levain, and that is not a type of bread I particularly like.
Your taste (undoubtedly) varies, and you may enjoy it more than I.
Then again, the Vermont Sourdough had such spectacular flavor, anything else would be hard to compare. Again, that's my taste.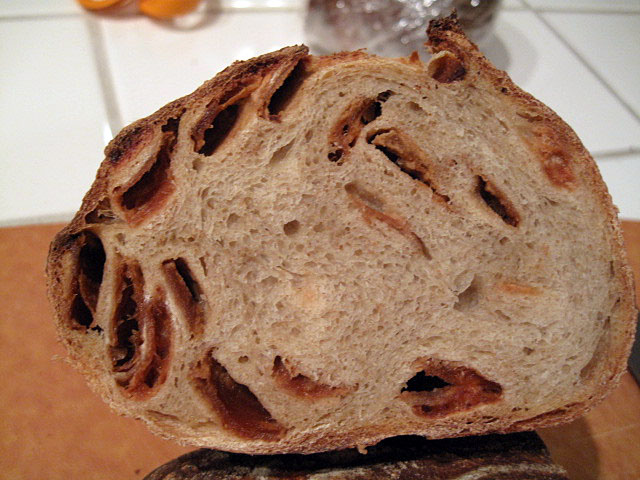 David