November 8, 2009 - 2:17pm
Today's breads - SF SD from C&C and Vermont SD from "Bread"
These were made with the San Francisco Sourdough starter from sourdo.com.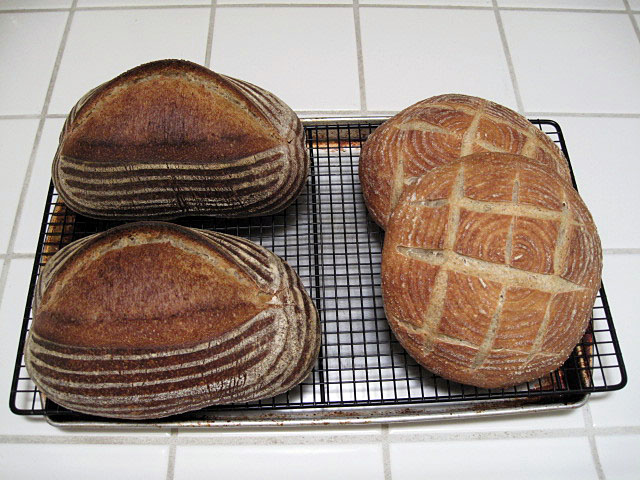 Vermont Sourdough on the left. San Francisco Sourdough on the right.
Please note the 3 distinct shades of browning of the Vermont Sourdough bloom. This is a sign that the blooming occurred gradually over a large portion of the bake. To me, this is an indication that the stars (loaf proofing, scoring, baking stone temperature, oven steaming, etc.) were all aligned propitiously. The oven gods smiled on these loaves, as you can see from their smiles' reflection on the loaves. (Eeeeew ... That's corney! Well, that 's what writing while listening to Beethoven's Piano Concerto No. 5 does. Consider yourselves fortunate I wasn't listening to the Dvorak Cello Concerto!)
Okay! Enough, already! On to crumb shots ...
San Francisco Sourdough from "Crust & Crumb" 
The crust was crunch-chewy. The crumb was a bit less open than expected. (The loaves were a somewhat over-proofed and collapsed slightly when scored.) The flavor was inoffensive but had no particular wonderfulness. It was mildly to moderately sour, which was what I'd wanted.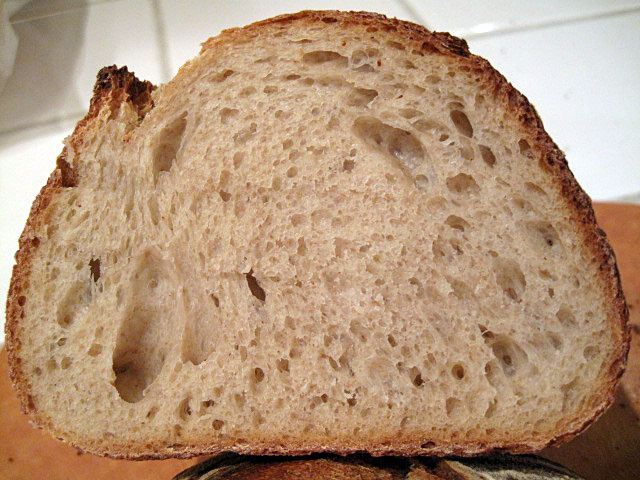 Vermont Sourdough from "Bread"
The crust was crunchy and nutty-sweet. The crumb was about as expected. It could have been more open, but I'm not unhappy with it. The crumb was quite chewy and the flavor was marvelous! Complex, sweet and moderately sour. It was close to my ideal for sourdough bread. 
The Vermont sourdough did have whole rye (10%) and the San Francisco Sourdough was straight white flour (except for a trace of whole wheat and rye in the starter feeding). Both of these formulas can make blow your socks off delicious bread. I credit the rye with the superior flavor in the Vermont Sourdough today. I certainly recommend a flour mix of 90% white and 10% rye to anyone who hasn't tried it. You don't taste "rye," but it does enhance the overall flavor greatly.
David