November 6, 2009 - 8:49am
Inky Savory Pain au Levain
The first day driving kids to school since I got back from Taiwan last weekend was the first day of listening to Emma Ayres on a fine classical radio show, ABC Classic FM, the familiarity of which filled me with delight which was quite uncharacteristic of me.  That day I counted the flowering trees that I had missed by the road side while I was away.  The flame trees were alight with their chilly red color flowers, the Chinese favorite color.  The vivid colors were like endorphins to me, sending me into fanciful thought of the depth of my memories.
Memories are like ghosts.  I think of Sting's The Hounds of Winter.  His new album, If on a Winter's Night ... has just been released, "an acoustic meditation on winter."   For me trips to Taiwan are trips down memory lane.  While I was there, my mother told me of her youth over many days and many morning Oolong teas.  When she was two months old, she migrated to a Taiwan that was occupied by the Japanese, 73 years ago.  She would have learned to speak Japanese if she were a better student.  Back then, the Japanese encouraged the Han people from China to develop Taiwan - the land was open for grabs to anyone who was strong and had an able body, not unlike that of the New World more than two hundred years ago.  My late grandfather was a strong man, who occupied a big piece of land towards the eastern seaboard of Taiwan. His younger brother was not so able and he occupied land up the mountain, ill-suited to crops.
How memories have faded and how Taiwan has changed.  73 years is a short time indeed.  In this period of time, Taiwan became a very affluent society.  People embraced new ideas, new trends and were afraid to fall behind.  The same thing happened across the Taiwan Straits in Mainland China - today, there are 50 million young kids learning to play western music instruments, 30 million of whom learn piano, which is why you get a Lang Lang, the modern day Mozart in China, as some believe.
We are all co-incarnates.  Don't get caught up in the word that has mystical, and for the most part, superstitious connotations.  It means we are the results of our forbearers, our cultures, and our surrounds as we in turn influence other people.  It has always been in Chinese blood, throughout our history, to learn from other people, to adapt, and then, to call it our own. 
Whenever I go back to Taiwan to visit folks and friends, I see a dazzling array of new stuff, half digested but always presented in a unique way.  Sourdough is one such example.
Inky bread is not most peoples' 'cup of tea.'  When my mother saw a sample of it, she uttered "pee-yew" instinctively (sorry that's an Australian sound, I forgot what she uttered.)  We walked into a humble looking bakery in a busy street in downtown Taipei; and a big tray of inky batards stared at me.  There was a cut-up sample on the side and as I looked closer, the description said "Squid Ink Chicken Bread."  Just when you need a camera, you don't have one.  That is annoying.  I had been carting a camera around the whole week and I had not found anything to shoot.
Savory breads like the "Squid Ink Chicken Bread" are quick lunches you can find easily in the streets of Taipei and most cities in Taiwan today.  I didn't buy one to try, but I think the chicken in the inky bread that I saw was done the Chinese way; that is, with a little soy sauce and ginger, or perhaps honey and ginger.  I wanted a little green color (unsuccessfully as you can see from the pictures below), so I made mine with spring onion and pesto. 
When I did my last inky bread in honor of Sting's song, A Thousand Years, I had no idea that it could be found in the market place.  I used squid ink to color the bread to make a statement - to express the grief and suffering from thousands of years of wars and killing, the subject of that song.  But this time, I am doing this inky bread because I think it is fun and unusual.   Here we go: 
My Formula for Inky Savory Pain au Levain 
Final Dough:
1,223 g ripe starter @75% hydration (5% rye)  This was refreshed three times over 32 hours from a seed starter of 36g from the fridge.
1,223 g flour (5% rye flour and the rest white bread flour, 11.9% protein)
700 g water (divided into 600 g and 100 g, see squid ink below)
4 + 1/2 tbsp or 65 ml. of olive oil (approx. 5% of total hydration)  Try not to use the scale for this. See note below

*

7 - 8 g of squid/cuttlefish ink (to be pre-mixed in 100 g of water as above)
35 g salt
Sesame for dusting
Pesto and spring onion mixture:  mix the following
100 g pesto sauce
100 g chopped spring onions
Chicken: pan-fry the following in 2 tbsp of olive oil
500 g diced skinless chicken thighs (do not use breast)
4 - 5 cloves of garlic, minced
1 teaspoon of corn starch (as meat tenderizer)
salt & pepper to taste
Total dough weight 3.2 kg and dough hydration 67%  (I was aiming for the standard baguette hydration)
The dough was divided into:
230 g x 3 (rolled in sesame seeds) and 800 g x 1, baked last night (pictured immediately below) for pre-dinner drinks and dinner (note: I left the large one plain without incorporating the pesto or chicken); and
900 g x 1, 500 g x 1 and 350 g x 1, baked this morning.
* One tablespoon of water is 15 g but one tbsp of olive oil is not 15 g.  It's 12 - 13 g for me if it is scaled on its own, but 11 - 12 g if scaled on top of water or something else.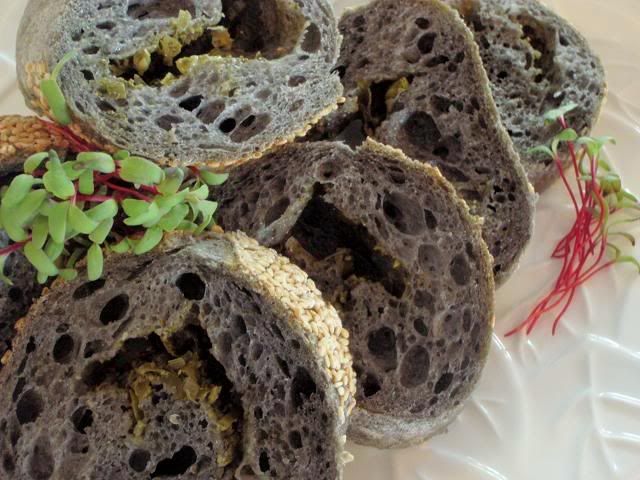 The above were all baked last night.
Procedure
Mix squid ink in 100 g water.
In a large bowl, mix starter with 600 g water first, then add flour, then salt, oil, and squid ink (in that order), mix until just combined. (Take down the time when this is done.  Bulk fermentation is approximately 2+1/2 hours if dough & room temperature is roughly 22 - 24C / 73 - 76F.  Note:  almost all bread books calculate bulk fermentation time from when kneading finishes, whether or not autolyse is incorporated.  Because I use my stretch and folds as my kneading, technically this means I should start counting my bulk fermentation time from the end of the first set of S & F's.  But as long as I am getting the results I want, I will continue to do what I have been doing. )
Autolyse 20 minutes; in the mean time, pan-fry chicken and prepare the pesto spring onion mixture (the cooked chicken should be completely cooled down before use).
First set of stretch and folds in the bowl, 60 - 70 strokes.
After 45 minutes, another set of stretch and folds, 20 - 30 strokes.
After an hour, divide the dough as you please.  Pre-shape the dough to a cylinder; rest 15 minutes.
Incorporate the savory mixture and shape the dough into a batard (see pictures below).
Proof the dough for approx. 2 hours if dough & room temperature is roughly 22 - 24C / 73 - 76F.  (Note: I moved my dough into the refrigerator immediately after it was shaped as it was a very hot day, 30C; ie, my dough received no floor time after it's shaped.)
I baked 4 loaves (250 g x 3 and 800 g x 1) after 4 hours in the refrigerator last night at 230C / 445F for 15 minutes and another 20 minutes at 210C / 410F.  I baked the rest of the loaves this morning (16 hours retardation).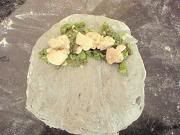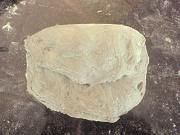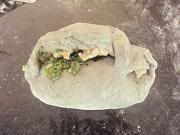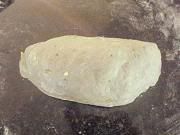 place some pesto spring onion mixture and chicken on the top one-third of the dough
fold the top 1/3 over and turn the whole dough 180 degree
place some more savory mixture on the top one-third of the dough, and fold it over again
fold again and seal it tight
                                                               The above was baked this morning.
The bread was delicious.   This was one of the best breads that I have made.   When it came out of the oven, my husband said that the bread looked sensational; but when I said, it's squid ink bread, he said, Oh, I changed my mind.  He ended up having his lion's share and couldn't stop raving about it.   This bread was a hit with my family. 
As I was finishing my draft for this post, Lang Lang was playing Yellow River Piano Concerto on my hi-fi.  The instrument is western, but the sentiment expressed in the music is incredibly Chinese.  What a piece of pure Romanticism.  With that, I am going to indulge myself with something I have always wanted to do - to paint abstract with flour:
                 flour abstract painting on my black marble work bench 1
                                                                                                          flour abstract painting 2
Shiao-Ping