November 1, 2009 - 10:53am
Well, I tried it: two different starters, each handled to emphasize yeast activity in one, flavor production (sourness) in the second. I have three starters, all from commercial sources. Two were purchased online, the third came from a well-known bakery, with even more well-known bakers. I chose one of the online-sourced starters; it's been consistently more active (measured by proofing times, and oven-spring) than the other two, and I chose the bakery-one for its good, but not overwhelming, sourness. I maintain the first starter at 100% hydration, I keep the second one at 67% hydration. I built both formula-ready starters (450 g each) over a period of twenty-four hours tripling the seed-sarter mass 3 times, the beginning, and the end of the next two 8 hour periods, finishing with a formula-ready starter with a mass 27 time the original seed starter. I also adjust the hydration by 1/3 the difference between the seed-starters' hydration, and the target fornula-ready starters' hydrations at each build: 125%, and 60% respectively.
Bread Formula scaled to make 3, 1.5 lb. loaves.
Total starter weight: 900 g (450 each)
Total dough weight: 2250 g
Hydration: 67%
Flour:                              Baker's percentage:
AP flour in starters: 481g      36%
Whole Rye Flour: 225g          17%
All-purpose Flour 312g          23.5%
Bread Flour 312g                  23.5%
Salt: 27g                               2%
Water in starters: 419g
Water added        475g
All three loaves were baked, one at a time, under an aluminum foil cover, on a baking stone at 480°F, 10 minutes with steam. 15 additional minutes uncovered, without steam at 450°F. Reading from the top of the pile counterclockwise #1, #2 and #3; #2 was retarded for approximately 3-1/2 hour, and # 3 5 hours.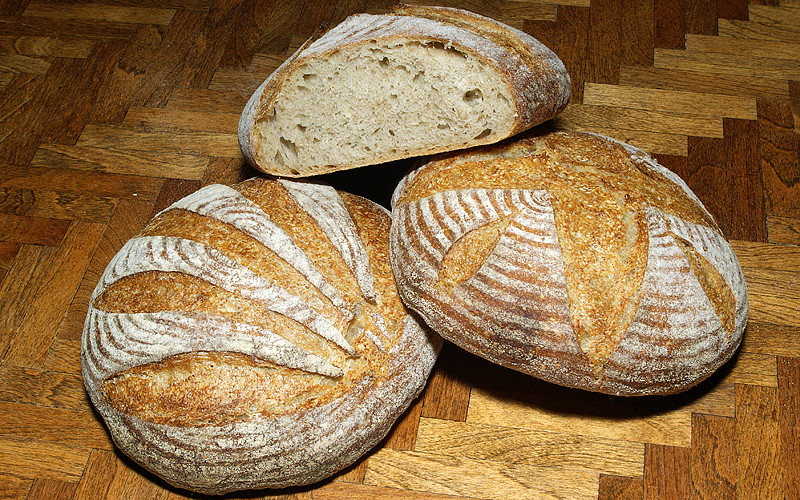 The bread has a taste more pronounced than previous sourdoughs I've made with one or the other starters, but that could be the extra rye flour. I made a mistake; I used 10% of the dough weight, rather than ten percent of the total flour weight to caculate the desired rye content. Despite the mistake, we love the flavor. I also experienced slightly less oven spring than usual, using only starter #1.
David G