October 25, 2009 - 7:05am
How about using a turbo convection oven?
Hi,
I am equipped with a turbo convection oven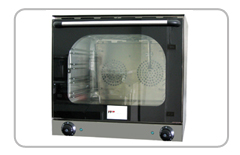 just like that one in the photo.
It's working great while using it for baking my pastries( I'm mainly doing pastry cooking) and as I intend to add some more baked products such as pizza,foccacia and similar flat breads ,was wondering if it works well when using a turbo baking system (baking up to 4 trays at the same time)?
Anyone with previous experience?