October 3, 2009 - 10:41pm
Today I thought I would fire up the wfo with the usual pizza first.  I made 3 pizza's and then the bread baking.  My pizza dough was from P.R.Book 'American Pie' the dough recipe was for the Napoletana Pizza Dough.  I always just flour dust my wooden paddle and slide my pizza into the oven..today I used half flour and half semolina...the semolina always burns like crazy when it hits the oven floor..indoors on my stones or in my wfo.  I guess it was just convenient all mixed in my little shaker!!  It is getting dumped! 
We love Oatmeal bread so I made 4 small boules of J. Hamelman's recipe from his book 'Bread'.  I also made Susan's Sourdough..Oh it tastes wonderful!  I'am still learning about the heat in my oven and experimenting with the steaming.  I would like to have seen the boule open up more..next time I'll try the oven even hotter and more steam.  I didn't overnight the final proof but it did get a long stay in the frig today along with the Oatmeal loaves.  Getting everything ready 'oven heat and temperature leveled out and loaves proofed' at the same time can be challenging and will take a more baking than I have been doing in the wfoven.
It was a fun day of baking and I have learned to get my fire going with only a few minutes of smoke.  I feel very proud of being able to light a fire correctly!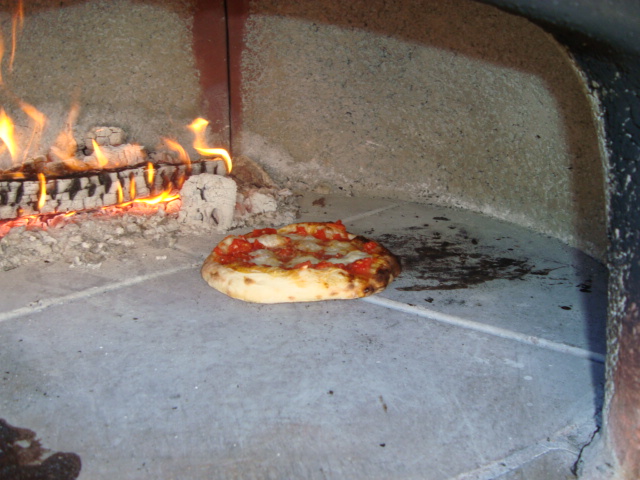 See the black spot beside the pizza...that's the semolina and flour mixture.  I don't recommend using semolina flour on your paddle because it just burns!  It will stick to the stone and not to the pizza if a little does you can just wipe it off.  Hot coals will clean up anything burned on the floor..self cleaning oven!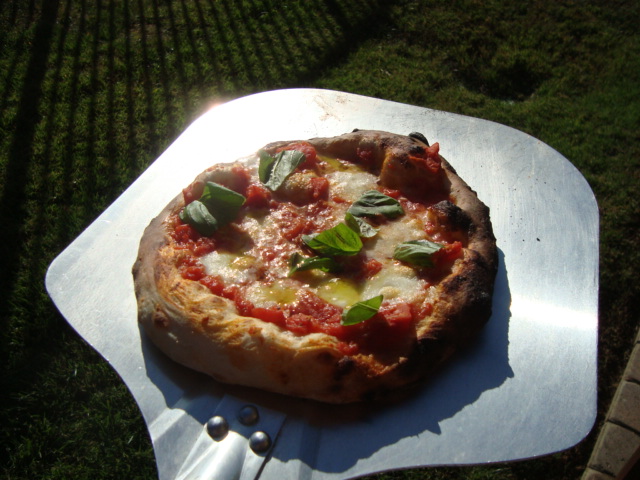 Topped with San Marzano Tomatoes , dried oregano, fresh garlic, EVOO, Fresh Mozzarella, home grown basil..that's it!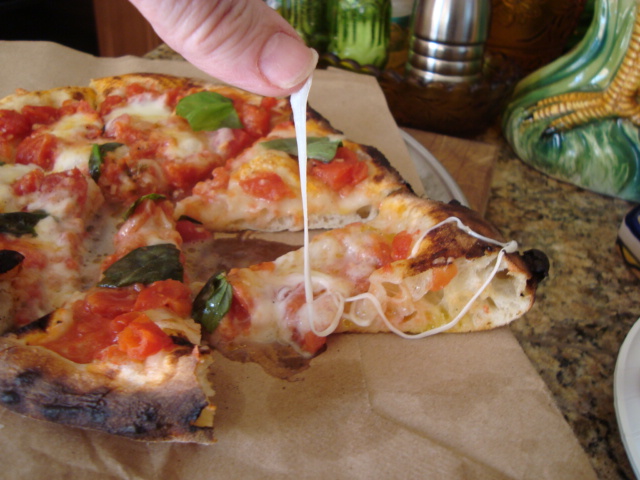 Wait a minute I'm taking a crumb shot!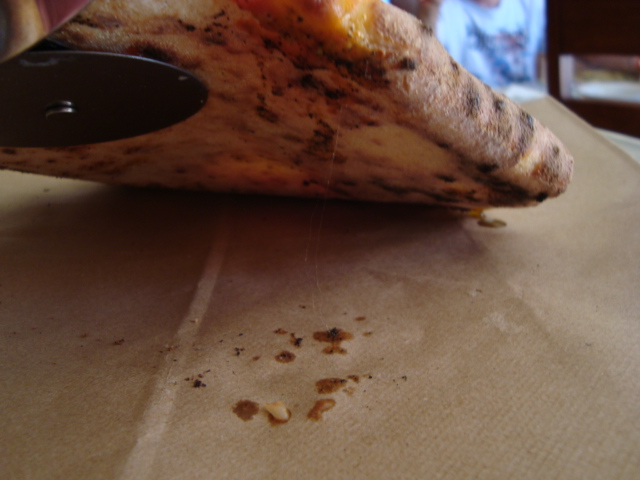 See those tiny little black specks...that's the semolina that was mixed with the flour on the wooden paddle.  Not recommended!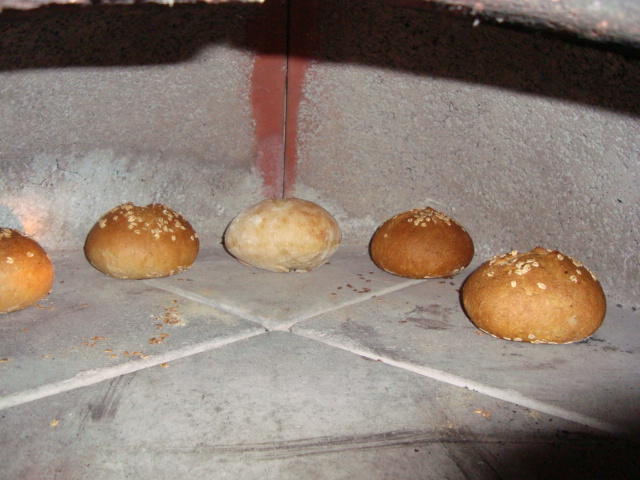 Oatmeal boules and in the center Susan's Sourdough boule...the glow on the wall is not from heat..it's a reflection from the camera shooting in the black of night with a flash.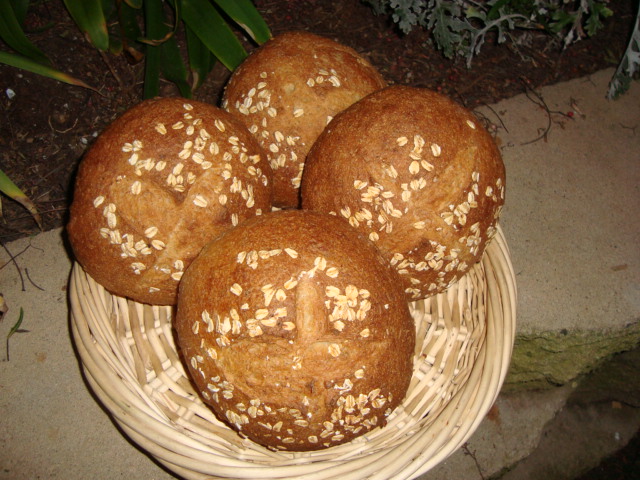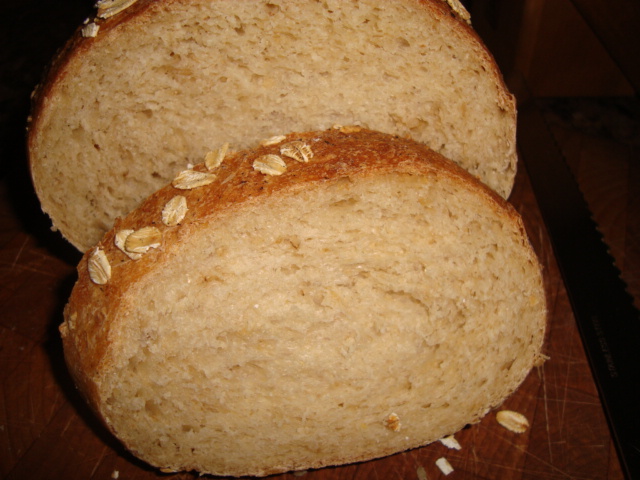 J.Hamelman's Oatmeal bread WFOven baked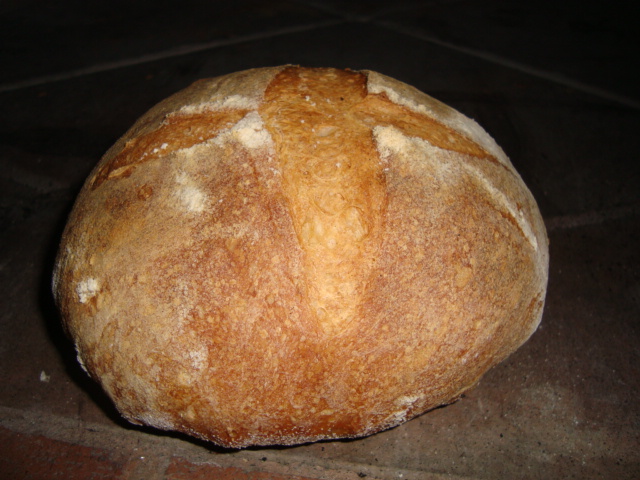 Susan's Sourdough WFOven Baked.  I would like to see it bloom open more on the top.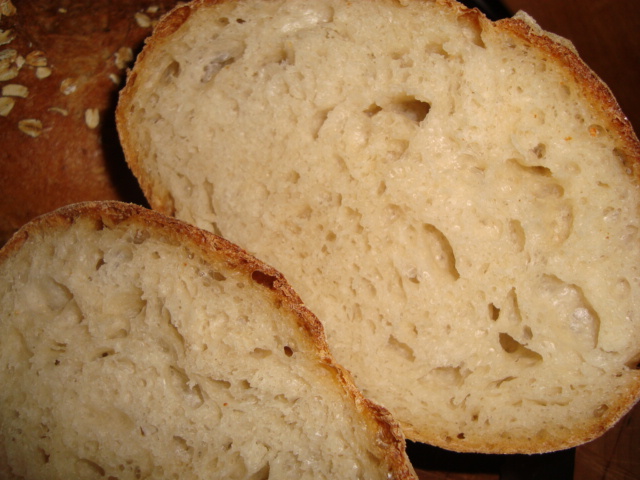 The flavor is very good!
Sylvia